Rel-17 a Priority as F2F time proves elusive
Rel-17 a Priority as F2F time proves elusive
Sep 21, 2021
The September Technical Specification Group (TSG) e-meetings (#93-e) have agreed that the freeze date for the Release-17 set of features will remain the major focus in the working groups until the end of the first quarter of 2022.
Release 18 will soon come under the spotlight, with agreement due on its 'Package Approval' (Approval of Rel-18 content) in December (TSG#94-e). However, apart from that prioritization process, the TSG#93-e meetings have agreed that the start of full-on Release 18 work can only begin once Release 17 has reached its functional freeze date – the date from which only essential corrections to the specifications are permitted - in March 2022.
With the Release 18 work ramping up from Q2 2022 onwards, a clear timeline is approved for a functional freeze date of the first 5G-Advanced release, in December 2023.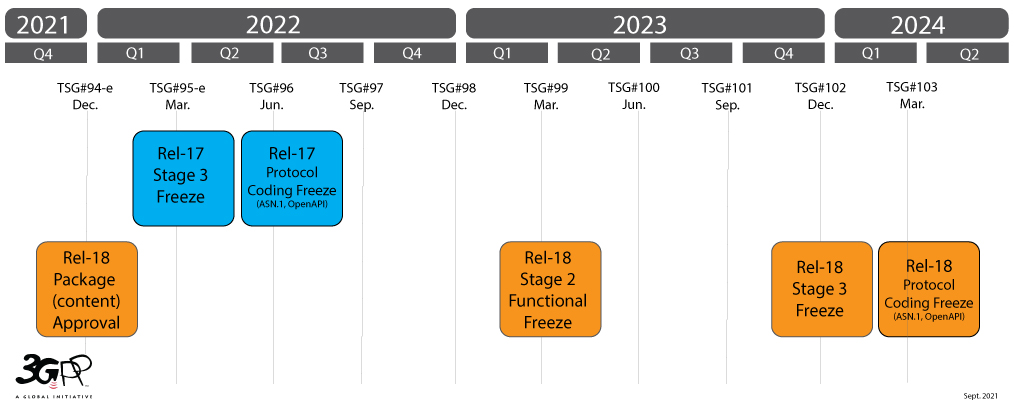 e-Meetings to continue
During TSG#93-e, the conditions and timing for a return to physical meetings were discussed and the decision taken that all 3GPP meetings will continue to be held remotely, extending to the first quarter of 2022.
These two areas; the release timeline discussion and the deliberations around the return to F2F meetings are connected. The realism around the Release 18 start date after the first quarter and the timeline agreed for it, are the result of the 3GPP groups adapting to the virtual meeting environment – with longer meetings required to take in email discussions and to allow the participation of all of the timezones.
Although e-meetings are not the ideal environment for the delegates to work together, they are proving to be effective. Release 17 has been the Covid-19 release, produced in the middle of a worldwide pandemic. With its completion now in sight, it will stand as a tribute to how we can adapt and flourish in such challenging times.
Further reading:
Contact for this article: This email address is being protected from spambots. You need JavaScript enabled to view it., Marketing and Communications Officer, 3GPP