The "Release 16 Description; Summary of Rel-16 Work Items" (TR21.916) is now available, with the Work Plan manager's summary notes for each of the Features within.  Although the detailed data on each piece of work (Studies, Work item descriptions, Features) is available via the work plan, or via the 3GPP Portal, we hope that the "initial state" (pre-Change Request state) of the Features in TR21.916 will be of use to you.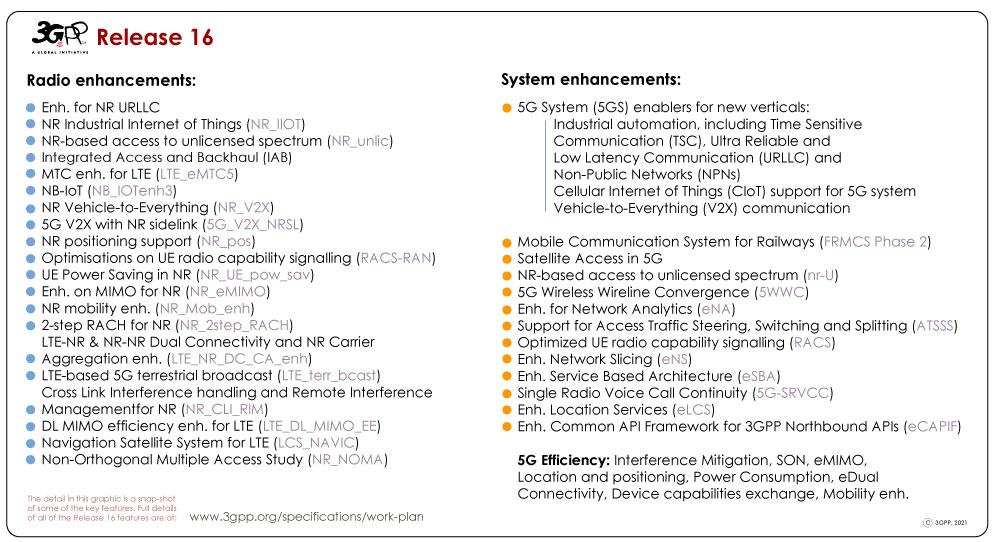 A shift of the Rel-16 timeline was approved at TSG#87 plenary e-meetings:
Rel-16 Stage 3 freeze now June 2020 (shifted by 3 months)

Rel-16 ASN.1 and OpenAPI specification freeze will also be complete in June 2020 (stays as planned)
Early Release 16 Status
Release 16 is a major release for the project, not least because it brings our IMT-2020 submission - for an initial full 3GPP 5G system - to its completion (see details below).
In addition to that formal process, work has progressed on around 25 Release 16 studies, on a variety of topics: Multimedia Priority Service, Vehicle-to-everything (V2X) application layer services, 5G satellite access, Local Area Network support in 5G, wireless and wireline convergence for 5G, terminal positioning and location, communications in vertical domains and network automation and novel radio techniques. Further items being studied include security, codecs and streaming services, Local Area Network interworking, network slicing and the IoT. 
Technical Reports (the result of the study phase) have also been developed on broadening the applicability of 3GPP technology to non-terrestrial radio access (initially satellites, but airborne base stations are also to be considered) and to maritime aspects (intra-ship, ship-to-shore and ship-to-ship). Work also progresses on new PMR functionality for LTE, enhancing the railway-oriented services originally developed using GSM radio technology that is now nearing end of life. 
As part of Release 16, MC services are extended to address a wider business sector than the initial rather narrow public security and civil defence services for which they had originally been developed. If the same or similar standards can be used for commercial applications (from taxi dispatching to railway traffic management, and other vertical sector scenarios currently being investigated), this would bring enhanced reliability to those MC services through wider deployment, and reduced deployment costs due to economies of scale – to the benefit of all users. 
RAN efforts couldn't avoid a short delay in the Rel-16  schedule:
In December 2018, an adjustment was agreed at TSGs#82 - to allow a 3 month shift in the Functional freeze (of features) and the ASN.1 completion for both Release 15 and Release 16: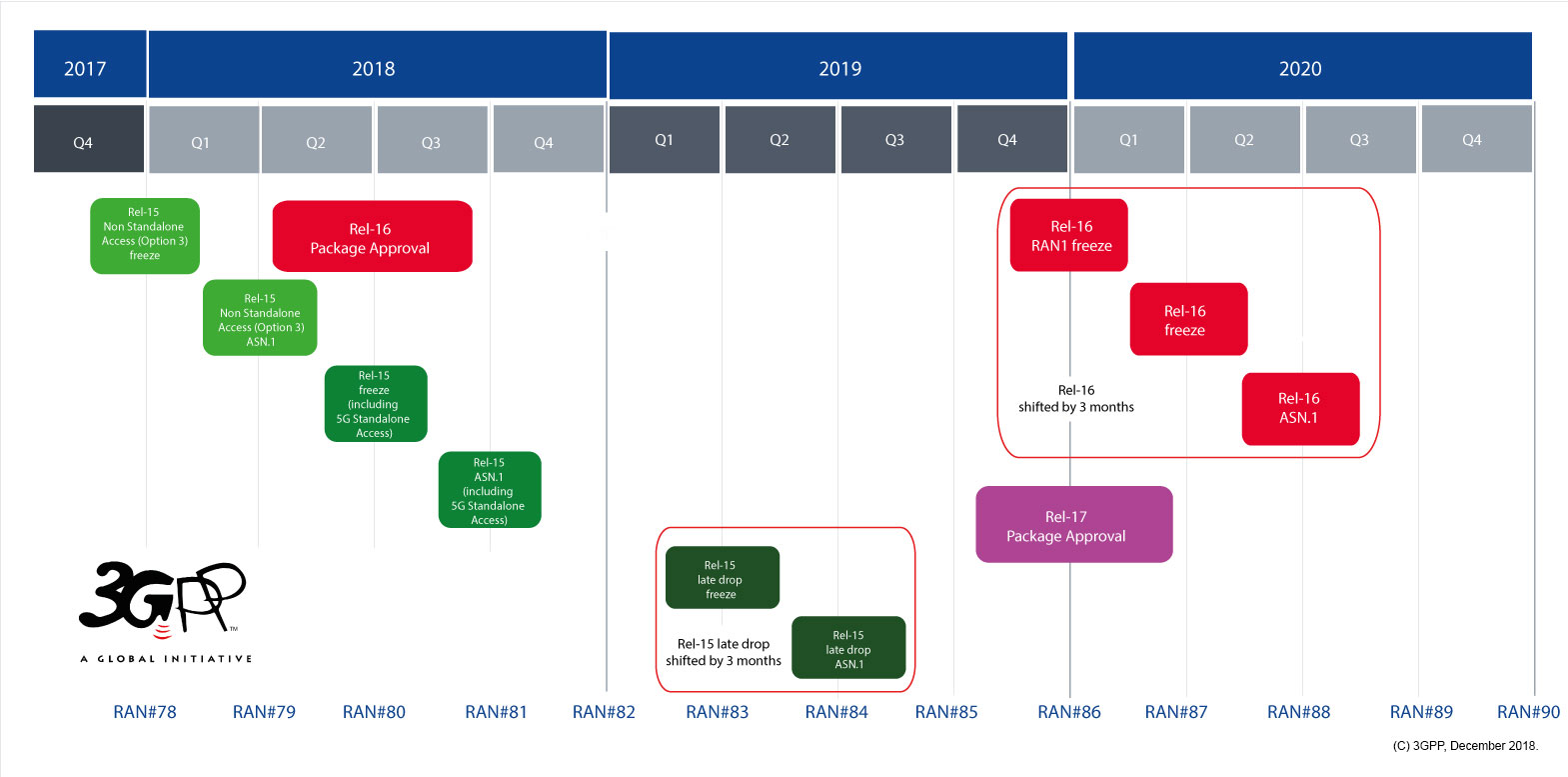 IMT-2020 - Final submission
Release 16 will be "5G phase 2" and will be completed in June 2020 (TSGs#88) - See adjustment noted above.
Original schedule:
This Release will meet the ITU IMT-2020 submission requirements and the time-plan as outlined in 
RP-172101
:
Details of the work plan - to meet agreed IMT-2020 submission timeplan:

Step 1: From Sep 2017 to Dec 2017, discussions in RAN ITU-R Ad-Hoc 
Calibration for self evaluation
Prepare and finalize initial description template information that is to be submitted to ITU-R WP 5D#29.
Step 2: From early 2018 to Sep 2018, targeting "update & self eval" submission in Sep 2018
Performance evaluation against eMBB, mMTC and URLLC requirements and test environments for NR and LTE features.
Update description template and prepare compliance template according to self evaluation results.
Provide description template, compliance template, and self evaluation results based on Rel-15 in Sep 2018.
Step 3: From Sep 2018 to June 2019, targeting "Final" submission in June 2019
Performance evaluation update by taking into account Rel-16 updates in addition to Rel-15
Update description template and compliance template to take into account Rel-16 updates in addition to Rel-15
Provide description template, compliance template, and self evaluation results based on Rel-15 and Rel-16 in June 2019.
Some Background on Release 16