Release 18 content, priorities and timeline are now moving into the discussion and decision phase. The prioritization process on Rel-18 features should be complete by the end of 2021 - with 'Rel-18 Package Approval' scheduled for TSGs#94: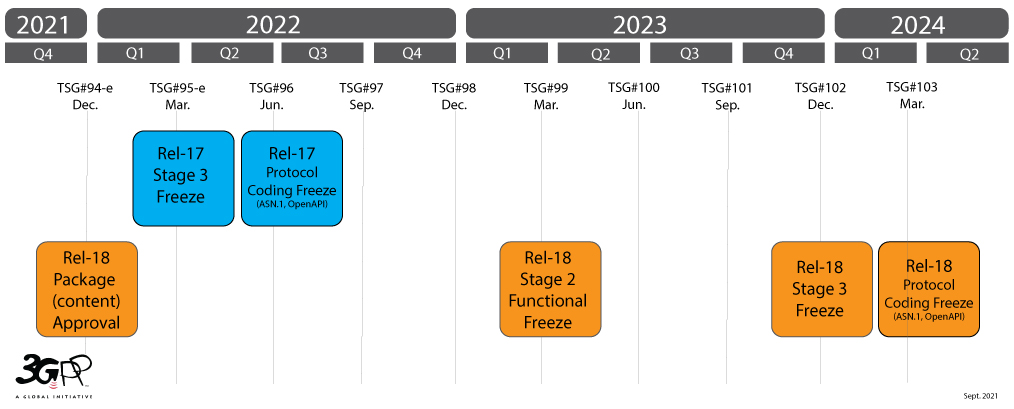 TSG SA Rel-18 timeline
As at September 2021, SA#93-e: RP-211644
Stage 2 functional freeze: March 2023
Stage 3 freeze: December 2023
SA2 has 8 meetings from Jan 22 till March 2023
SA2 TU planning according to 8 meetings
CT needs 9 months after Stage 2 functional freeze
Rel-18 content decided by RAN/SA/CT in Dec/21 at TSGs#94-e
Rel-18 Study items and Work Items from the Working Groups SA3, SA4, SA5, SA6 are under discussion and some of them have already been approved.

Rel-18 Study items and Work Items from SA2 will undergo a prioritization process until/during SA#94-e (December). There are currently about 40 Rel-18 S/WIs proposals discussed for SA2.

There are foreseen RAN impacts on the work and a need for cross-group coordination of those items. This will be moved forward during the December TSGs (#94-e).
Note: For a description of the Stages of a release, see TR21.900, section 4.0.
TSG RAN Rel-18 planning
RAN held its first Rel-18 workshop June 28th – July 2nd. The endorsed summary of the workshop is in RWS-210659.
The subsequent email discussion for RAN Rel-18 occurred during August 30th – September 3rd, producing a set of email summaries (See RP-211642 for details)

Next steps on RAN Rel-18 management after RAN#93-e (as in 'RAN planning – meetings and Rel-18' RP-210770):
Email discussions in October 2021 to start deriving RAN1/2/3/4 WIs and SIs from consolidated proposals
RAN#94-e to approve RAN1/2/3/4 work package for Rel-18
RAN4 impacts of RAN1/2/3-led items are included in the WI/SI sheets at the December approval
RAN#94-e (December) can potentially approve item(s) on RAN4-led new areas
Further RAN4-led proposals that are dependent on Rel-17 finalization are to be worked on in Q1/2022
RAN#95 (March) to approve the rest of the RAN4 core work package for Rel-18
TSG CT input to joint CT/RAN/SA session about Rel-18
As always, TSG CT works in syncronisation with TSG SA and TSG RAN.
Although TSG CT owns some Stage 2 items, it is mainly dependent on TSG SA stage 2 inputs for the production of Stage 3 work.
The CT-owned stage 2 items in Rel-18 can start as soon as the Rel-17 workload has decreases sufficiently. TSG CT can produce TEI18 (Technical Enhancement or Improvements, See TR21.900, Section 6.2), independently of Stage 2, immediately after the Rel-17 freeze date. Part of Stage 3 work (e.g. study on protocol selection/evolution) can be triggered at the CT-level before the finalization of the Stage 2.
TSG CT input on the Release 18 timeline (RP-211643):
CT depends on SA/RAN Stage 2 completion dates
CT requires 9 months between Stage 2 freeze and Stage 3 freeze
CT needs frozen and stable functional scope to implement the protocol details in new/existing specifications
3 plenary cycles provide enough time for the development/update of the new/existing specifications, efficient TSG-cross coordination based on the strong interaction and inter-dependency with SA1, SA2, SA3, SA4, SA5, SA6, RAN2, RAN3, RAN5.
The new 5G-Advanced marker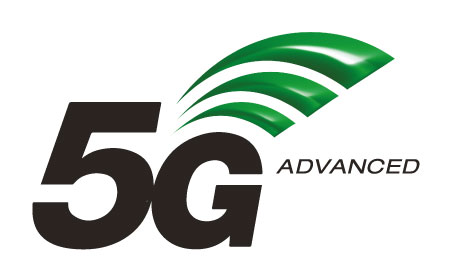 We now have an official 5G-Advanced logo, for use on 3GPP Reports and Specifications, from Release-18 onwards.
The decision to adopt the new marker was taken at the 3GPP Project Coordination Group (PCG#46-e Meeting) in April 2021. The PCG has considered and approved the use of distinct 3GPP markers - logos - since the completion of early LTE work in 2008, to help distinguish new release capabilities and services that they bring.
Whether 'LTE' or '5G', these markers have allowed the broader industry to achieve some clarity in their conversations about which 3GPP system they are referring to in a variety of conversations with partners and customers as well as within the 3GPP community.
Guidelines for the use of the 5G-Advanced logo are found ...here.
The Rel-18 Work Plan
As new studies and the detailed specification work begins, the Work Plan will be the place to go to to monitor the growth of Release 18. Every Plenary set of meetings sees an update to the 3GPP Work Plan review:
The latest Work Plan is always available for download at https://www.3gpp.org/specifications/work-plan
Some Background on Release 18
3GPP news article: Advanced plans for 5G (July 6, 2021)
News story 'Evolution towards 5G-Advanced' - Link to webinar presentation by Wanshi Chen, TSG RAN Chair.
TR21.918 the "Release description; Release 18", will be approved and published at the

end

of the Release. Prior to that, draft versions will be available.