Release 18 is moving into focus, as Stage 3 work on Release 17 reaches maturity - with Rel-17 functional freeze achieved in March 2022.
TSG Rel-18 timeline & content
Stage 2 functional freeze: March 2023
Stage 3 freeze: December 2023
Rel-18 content largely decided at the December 2021 TSGs (#94-e):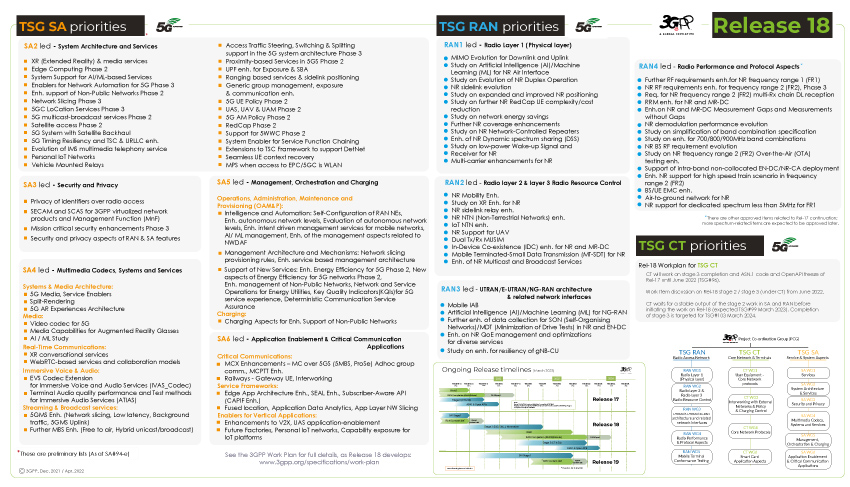 The new 5G-Advanced marker
We now have an official 5G-Advanced logo, for use on 3GPP Reports and Specifications, from Release-18 onwards.
The decision to adopt the new marker was taken at the 3GPP Project Coordination Group (PCG#46-e Meeting) in April 2021. The PCG has considered and approved the use of distinct 3GPP markers - logos - since the completion of early LTE work in 2008, to help distinguish new release capabilities and services that they bring.
Whether 'LTE' or '5G', these markers have allowed the broader industry to achieve some clarity in their conversations about which 3GPP system they are referring to in a variety of conversations with partners and customers as well as within the 3GPP community.
Guidelines for the use of the 5G-Advanced logo are found ...here.
The Rel-18 Work Plan
As new studies and the detailed specification work begins, the Work Plan will be the place to go to to monitor the growth of Release 18. Every Plenary set of meetings sees an update to the 3GPP Work Plan review:
The latest Work Plan is always available for download at https://www.3gpp.org/specifications/work-plan
Some Background on Release 18
3GPP news article: Advanced plans for 5G (July 6, 2021)
News story 'Evolution towards 5G-Advanced' - Link to webinar presentation by Wanshi Chen, TSG RAN Chair.
TR21.918 the "Release description; Release 18", will be approved and published at the

end

of the Release. Prior to that, draft versions will be available.