More 5G system enhancements are set to follow in Release 17, scheduled for delivery in 2021.
September 22, 2020
During the recent TSG#89 e-meeting, a discussion was held on the potential delay to the Rel-17 timeline - given the continued need for virtual e-meetings, instead of physical meetings.
Although tremendous progress has been achieved under e-meetngs, at the working group and also plenary level, it has become clear that the same rate of work cannot be achieved, as would have been possible in a face-to-face environment. At TSG#89, there was agreement that a delay in the Rel-17 schedule will be necessary.
A firm decision on the delay to the freeze date of 3GPP Release 17 will be made in December 2020. Each of the TSG's (CT, RAN and SA) working groups will continue to study the situation, to arrive at the best common decision at the next Plenaries (December 7 – 11).
July 3, 2020 Update:
Discussions at TSG#88-e Plenaries identified that the Rel-17 dates are at a high risk of being delayed. This is due to the switch from physical meetings to e-meetings. In SP-200606, the Work Plan manager noted that both SA2 for Stage 2 work (SP-200536) and TSG RAN (RP-201257) had warned that Rel-17 dates will have to be shifted. This will be further discussed in Sept 2020, during TSG#89-e.
At TSG#87e (March, 2020) the following Rel-17 timeline was agreed:
Rel-17 Stage 3 freeze September 2021
Rel-17 ASN.1 and OpenAPI specification freeze: December 2021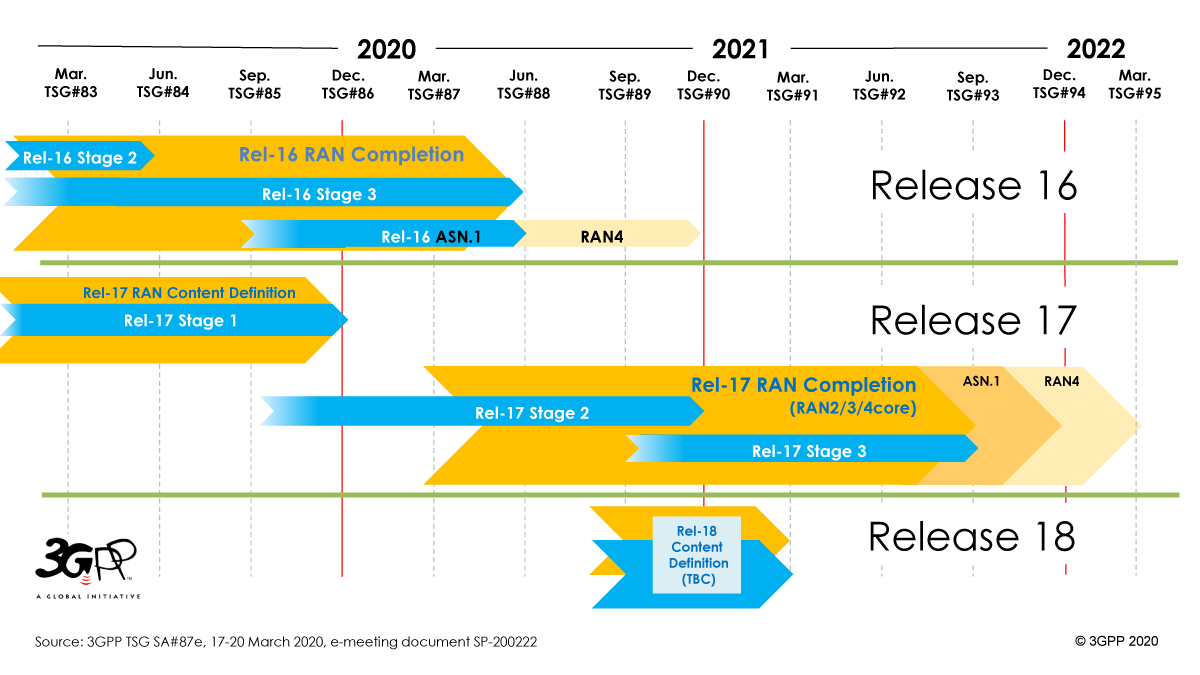 December 2019 Update:
At the December Plenaries, TSG RAN#86 meeting had outlined its ambitious schedule in the 'Release 17 package for RAN' presentation, which contains slides on the time to be spent (Time Units) on RAN features for Rel-17.
In the light of the latest decision - In March, 2020 - Here are the 3GPP RAN milestones as a consequence of the cancellation of WG and TSG face-to-face meetings: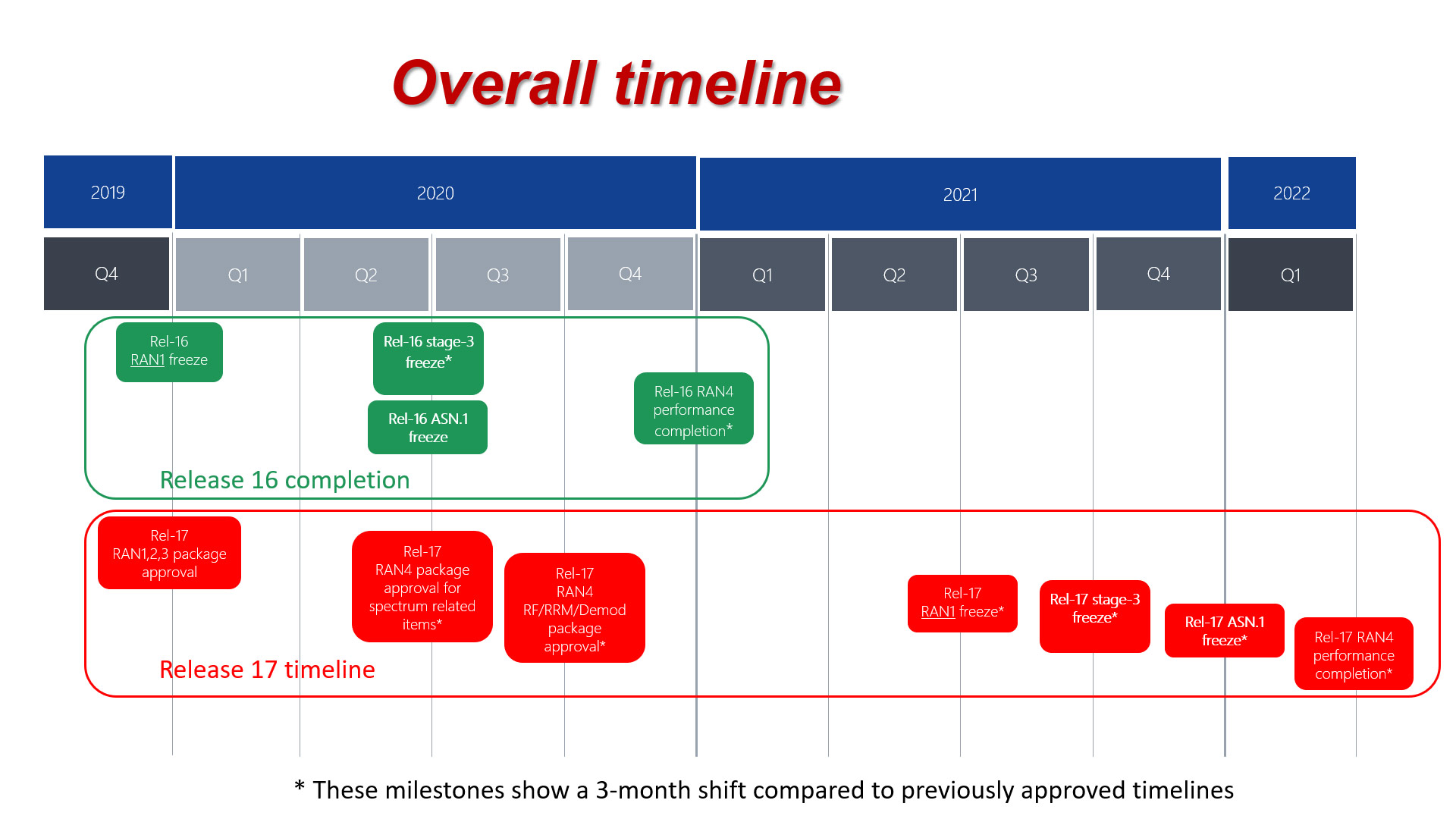 The following areas have been prioritized, at the December 2019 TSG meetings, for inclusion in the release: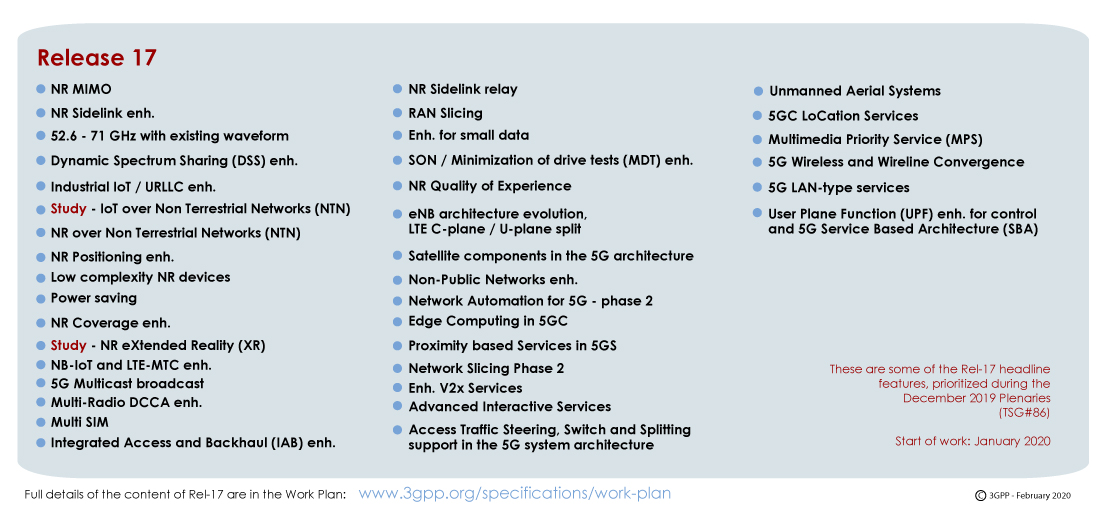 Some Background on Release 17
Details of the features and work items under each 3GPP Release are contained in the Work plan.