5G-ACIA, Non-Public Networks for Industrial Scenarios
September 3, 2019
5G-ACIA have published a short paper to describe the industrial (IIoT) deployment scenarios for 3GPP-defined 5G private networks, looking at how organisations can apply 5G technologies on their own premises, either as an independent 5G network or in conjunction with a public network.
ATIS Webinar – 5G Standards development
August 6, 2019
A new ATIS webinar features three distinguished experts, each contributing their perspective on the Global collaboration effort to produce 3GPP specifications for 5G.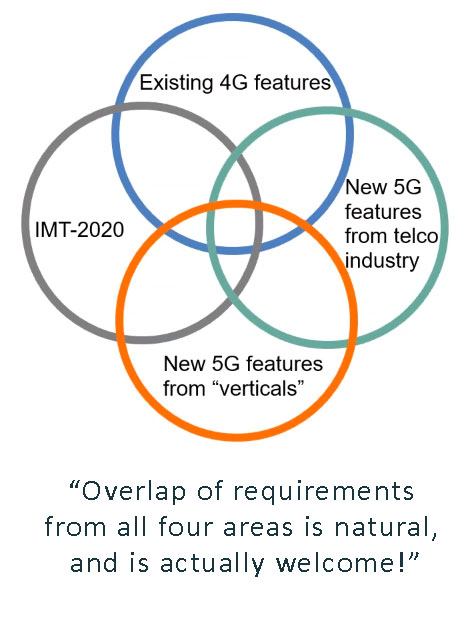 Farrokh Khatibi, presented on Services and Requirements in Release 15. He identified four areas driving 5G: The ITU IMT-2020 project, Evolution of 4G systems, New 5G features and the Support for new industries [new to 3GPP].
To meet the need, eMBB was the initial focus for Rel-15, followed up by three other areas:
mIoT – including high density deployments
Critical Communications - including industrial automation and work on the 'tactile internet'
Network Operation (NEO) – brings in the requirements of new sectors - verticals
Farrokh Khatibi looked also at the new requirements met by Release 16 – which further addresses the needs of the verticals coming in to the 3GPP eco-system.
RAN Rel-16 progress and Rel-17 potential work areas
July 18, 2019
In a recent 3GPP webinar, Balazs Bertenyi – the TSG RAN Chair - discussed the current and future priorities for the radio groups.
Although the webinar is intended for people with some knowledge of how 3GPP functions and of the various working group's working methods, we do hope that it could also be of interest to non-3GPP experts and other enthusiasts too.
Buried in the presentation are some important details of the work areas being considered by RAN – for Release 17. Balazs gives us an explanation why Release 17 will probably be on the 'short' side, spanning a mere 15 months. There is also a hint that the next release will complete some very important pre-normative studies on 5G NR in spectrum above 60GHz. He also gets modest on 3GPP's impact on the future of AI.