By Carolyn Taylor, 3GPP MCC
The demand for 5G devices with reduced capability is growing at pace. The 3GPP RedCap NR feature reduces UE complexity through fewer RX/TX antennas, reduced UE use of bandwidth, lower UE power consumption, relaxed data rates, relaxed UE processing time and processing capability to help enable some exciting use cases, primarily around Industrial wireless sensors, Video surveillance and Wearables.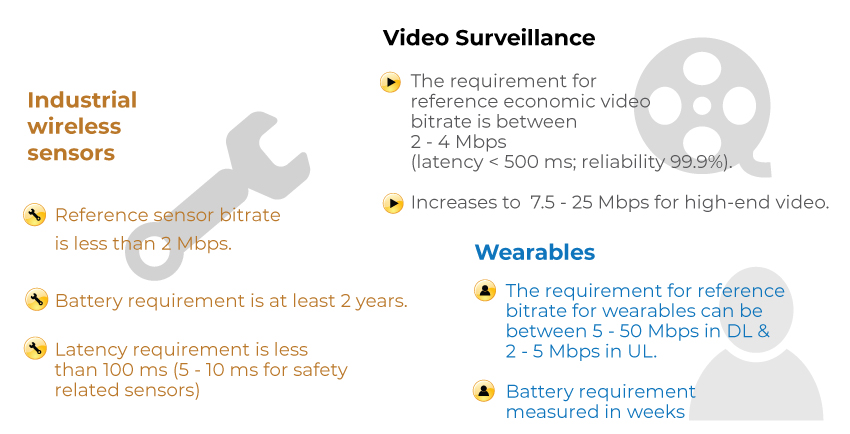 RedCap UE will be used in both Frequency range 1 (FR1) from 410 MHz - 7125 MHz. and Frequency range 2 (FR2) 24250 MHz - 52600 MHz - 71000 MHz.
Some of the major topics evaluated in the Rel-17 study phase were related to reduced maximum UE bandwidth, reduced minimum number of Rx branches and maximum number of DL MIMO layers. After the completion of the study, it was determined that:
Maximum bandwidth of an FR1 RedCap UE during and after initial access is 20 MHz.
Maximum bandwidth of an FR2 RedCap UE during and after initial cess is 100 MHz.
For frequency bands where legacy NR UE is required to be equipped with minimum of 2 RX antenna ports or with minimum of 4 Rx antenna ports, the minimum number of Rx branches supported for a RedCap UE is 1.
For a RedCap UE with 1 Rx branch, 1 DL MIMO layer is supported.
For a RedCap UE with 2 Rx branches, 2 DL MIMO layers are supported.
There are also some higher layer features defined in Rel-17 that are optional for RedCap UEs, which can help with UE power consumption:
Extended Discontinuous Reception (DRX) in The Radio Resource Control (RRC) idle/inactive state.
The extended DRX cycles are introduced for RRC idle state and RRC inactive state as an optional feature for RedCap or non-RedCap UEs. However, this can be useful for RedCap UEs as the network could configure an extended DRX cycle when the use case requires relatively relaxed requirements on DL latency, reducing the UE power consumption during periods with large enough packet inter-arrival time.
Radio Resource Management (RRM) measurement relaxation for neighbour cells.
This is another higher layer feature which is for RedCap UEs that can be enabled by the network. In RRC idle/inactive states, the UE is allowed to further relax neighbour-cell RRM measurements in order to help reduce UE power consumption. This happens under two conditions:
1. When an RSRP/RSRQ-based stationarity criterion is met for a period of time
2. When both the stationarity criterion and a not-at-cell-edge criterion are met.
Prioritization in Release 17
In Rel-17 the RedCap ecosystem and framework was defined, including principles of network awareness of device capabilities. However, not all aspects were completed and therefore some functionality was moved into Rel-18 for as enhancement.
The features now being introduced in Rel-18 for enhanced support of RedCap NR devices include those for emerging 5G use cases, including Smart city and eHealth coverage.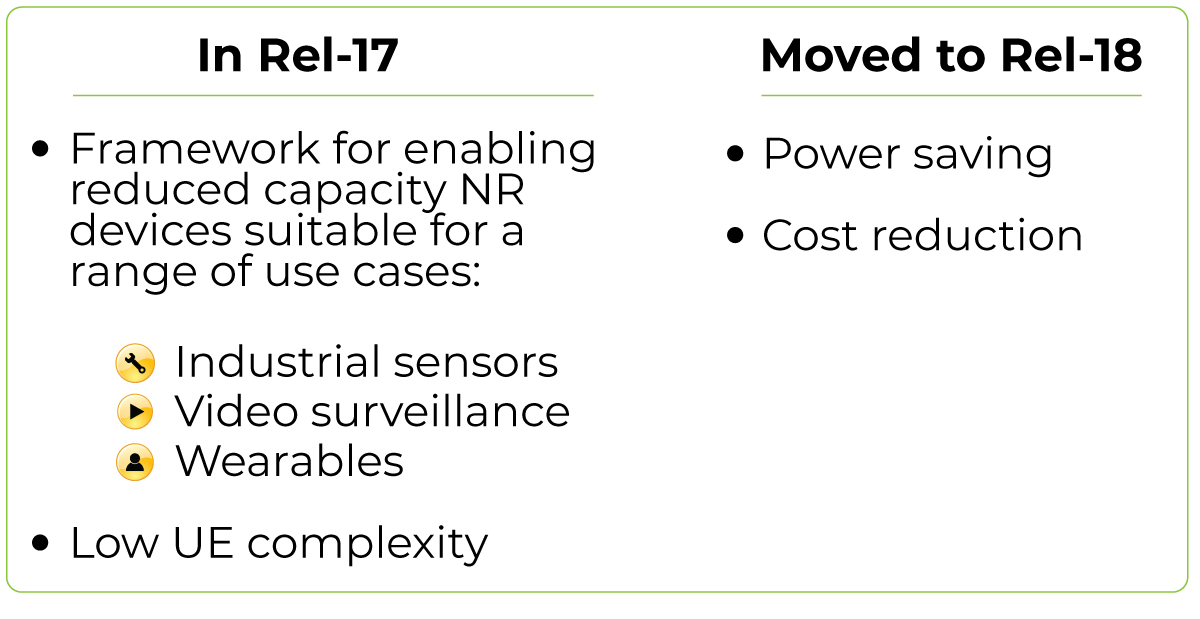 Further reading
Updated: 26/07/2023