August 6, 2019
A new ATIS webinar features three distinguished experts, each contributing their perspective on the Global collaboration effort to produce 3GPP specifications for 5G.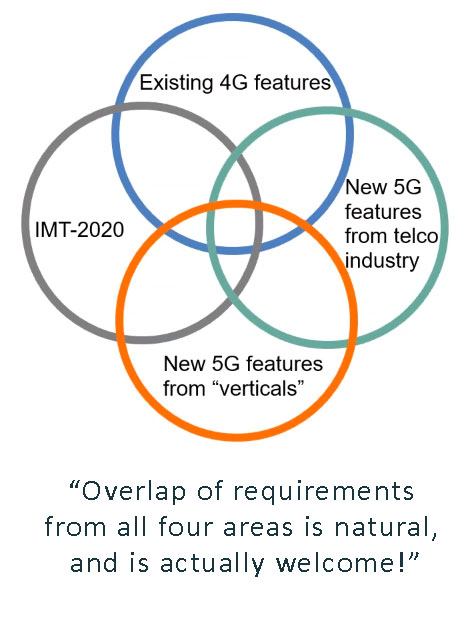 Farrokh Khatibi, presented on Services and Requirements in Release 15. He identified four areas driving 5G: The ITU IMT-2020 project, Evolution of 4G systems, New 5G features and the Support for new industries [new to 3GPP].
To meet the need, eMBB was the initial focus for Rel-15, followed up by three other areas:
mIoT – including high density deployments
Critical Communications - including industrial automation and work on the 'tactile internet'
Network Operation (NEO) – brings in the requirements of new sectors - verticals
Farrokh Khatibi looked also at the new requirements met by Release 16 – which further addresses the needs of the verticals coming in to the 3GPP eco-system.
It is this current Release – Scheduled for completion by mid-2020 – that brings in maritime, satellite, broadcast, smart cities and utilities in addition to Mission critical, Automotive and Factory automation experts who have been attending 3GPP groups in recent months.
Looking beyond, he introduced the viewer to Release 17 potential highlights, including; control applications for verticals (eCAV), enhancements for Unmanned vehicles, 5G railways, Audio visual service production, network controlled interactive services (NCIS), multi-SIM devices and multi-media priority service.
To the core
Stephen Hayes then presented the 5G core network standards. He briefly described the two core networks that are capable of supporting 5G and the Release 15 'drops' to meet different architecture configurations (see image).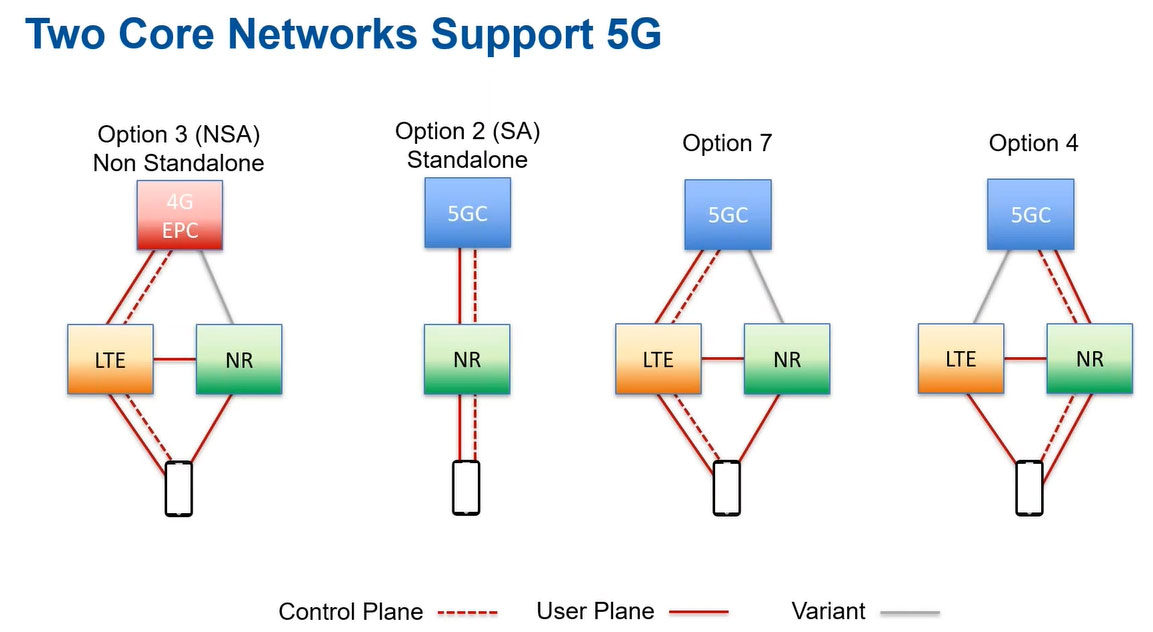 In this section of the webinar, he focused particularly on the 5G Core (5GC), newly developed to support the new radio (NR). However, he stressed that this does not mean that the Evolved Packet Core (EPC) – the 4G core - is abandoned. Far from it, he describes how 'Option 3' will be used in many cases in the early days of 5G connectivity.
Stephen Hayes described the progress in 3GPP towards a Service Based Architecture (SBA), Network Slicing, on the principle of CP/UP functional split, the integration of cloud/edge computing and on how tailored QoS can help users.
5GC functionality has caught up and will now surpass the EPC, with V2X support, NB-IoT enhancements and Location Services (LCS) - for new use cases and NR - being introduced in Release 16.
Further enhancements to the 5GC are on the horizon.
5G RAN Developments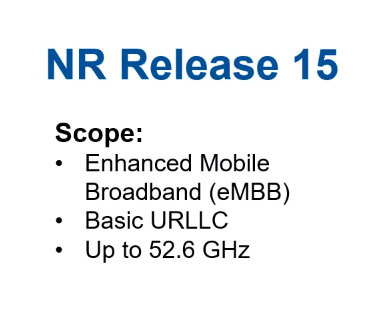 Emag Farad looked at the current releases from a radio perspective. He gave a clear and concise overview of the Rel-15 work on NR as a ground-up technology evolution to meet the ITU IMT-2020 vision for 5G systems.
NR in Rel-15 focuses on enhanced mobile broadband (eMBB), but also on some basic URLLC functionality. Rel-16 will develop that further.
The Rel-15 work item was completed against an aggressive time-line. Now – With Release 16 - 3GPP is moving ahead with work to increase capacity and efficiency and to meet the need of new [to 3GPP] markets. Emag Farad described Rel-16 as more an evolutionary development of the system – after the work on NR in Rel-15.

Rel-16 will bring MIMO enhancements, UE power saving, Cross link Interference (CLI) & Remote Interference Management (RIM), Fibre-less backhauling, URLCC and Industrial IoT, the evolution of cellular V2X for advanced use cases, NR positioning and NR-Unlicensed.
Now, in the second half of 2019, the delegates to 3GPP TSG RAN are planning Release 17 – for further 5G enhancements (early 2020 – June 2021).
Release 17 work areas under consideration:
Contact for this article: Kevin FLYNN, Marketing and Communications Officer, 3GPP