TCCA CEO retires amid plaudits for 3GPP role
TCCA CEO retires amid plaudits for 3GPP role
Jul 21,2017
July 21, 2017
Phil Kidner has announced his retirement after eleven years at the helm of the TETRA and Critical Communications Association. The TCCA is a Market Representation Partner in 3GPP.
TETRA became operational in the mid-90s being built on the ETSI standards and the TETRA Association's expertise to bring it to market.
During Phil Kidner's leadership the Association has been a major driver for the success of TETRA amongst Governments, Operators, Vendors and – vitally – the Users from the public safety and transport sectors.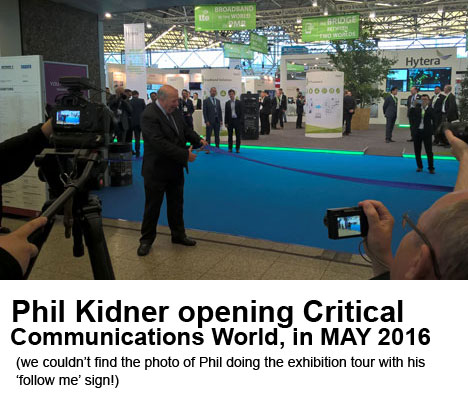 Phil always identifies the year 2000 as a big date in the TETRA world, a year when the first national systems were rolled out and a time when he was actively involved in it's successful launch in the UK - From initial specification through procurement, implementation and service management.
Phil Kidner joined the Association in 2006 as CEO and has seen TETRA clock-up over 250 operational networks, providing dedicated public services. The largest TETRA network is set to carry 500,000 users, when completed in 2017.
In 2011 the TETRA Association widened its scope to include all critical communications. Since then, Phil has worked to bring the TCCA community into 3GPP, to define features that deliver an LTE standard that can properly host mission-critical communications in the future.
3GPP wishes Phil a long and happy retirement and takes this opportunity to wish Tony Gray every success as the new CEO of the TCCA.
Read the TCCA Announcement …here