April 6, 2017, Sophia Antipolis.
The ETSI summit on 5G Network Infrastructure took place here today, looking behind 5G radio at what is planned to meet the need for a futuristic core network.
Some of the key themes of the day were; how can standards help bridge the divide between the existing network architecture and 5G? what are the 3GPP 5G plans? and what will be the impact of the demands of the internet of everything on them?
Georg Mayer represented 3GPP, giving a presentation on the '5G infrastructure work in 3GPP'.
Work on 5G protocols has now started, but time is tight – with the first phase to be concluded by June 2018. Georg Mayer told participants that "It is not the time anymore for outside bodies to send requirements – You need to contribute directly to 3GPP to influence the work in Release 15."
He spoke about the requirements for a 'basic' 5G system – Mobility management & roaming, Session management & Session continuity, Quality of service & Policy frameworks, an access agnostic core, Interworking & Migration ("Option 3") and the maintenance of voice using IMS and VoLTE support – but he looked beyond that.
Georg Mayer identified the need to continue the work with new stakeholders. "They want to use our network, but they want it to be tailored to specific service needs. We need to open the core, exposing the capability of the core to the outside. We need the resources to be allocated on demand, local and end-to-end."
The presentation went in to detail about the protocols and interfaces, identifying the challenges of meeting new requirements, the 'software-ization' of the core and the debate on how much of the existing system architecture and protocol work can be kept. He identified the current resilience and overload control as important features to consider. Georg Mayer suggested that not everything should be done in one go, but that migration from the traditional system approach to a fully service based architecture should stretch beyond the current 3GPP Release and even the next.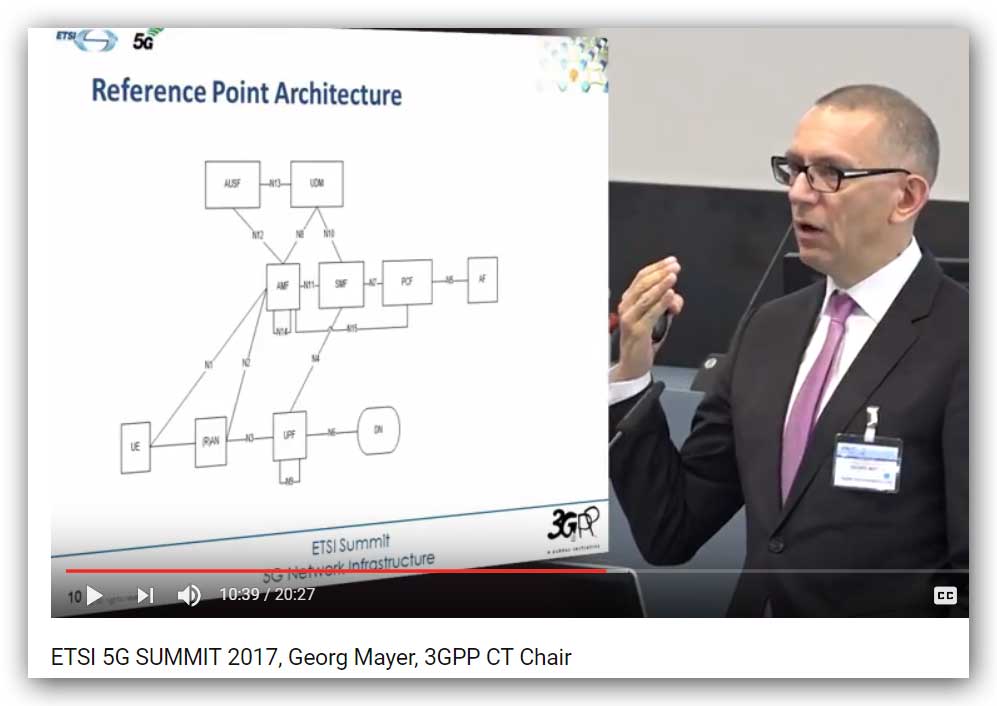 Summing up, he predicted a software and service centric transformation of the core, that 5G will bring in multiple-stakeholders to the new platform (not merely a bit pipe!) and that 3GPP will start to facilitate resources being 'orchestrated' to satisfy different types of networks.
Further reading
The presentations from the ETSI summit on 5G Network Infrastructure are on-line…Here.
Other presentations included;

EC perspective on 5G core standardization
NFV as a 5G infrastructure enabler
Towards Intent-driven and Cognitive Network Operations
Policy based management
Next Generation Protocols: 'Last chance to change'
5G Aspects of Next Generation Internet Protocols
ITU-T activities on architecture of 5G protocol
5G Security
Contact for this article: Kevin FLYNN, Marketing and Communications Officer.