Satellite components for the 5G system
Satellite components for the 5G system
Jan 04, 2018
January 4, 2018
By Nicolas Chuberre and Cyril Michel
There is increasing interest and participation in 3GPP from the satellite communication industry, with companies and organizations convinced of the market potential for an integrated satellite and terrestrial network infrastructure in the context of 5G.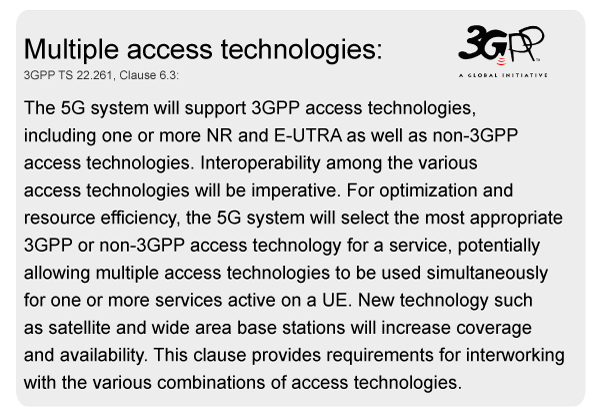 The roles and benefits of satellites in 5G have been studied in 3GPP Release 14, leading to the specific requirement to support satellite access being captured in TS22.261 - "Service requirements for next generation new services and markets; Stage 1", recognizing the added value that satellite coverage brings, as part of the mix of access technologies for 5G, especially for mission critical and industrial applications where ubiquitous coverage is crucial.
Satellites refer to Spaceborne vehicles in Low Earth Orbits (LEO), Medium Earth Orbits (MEO), Geostationary Earth Orbit (GEO) or in Highly Elliptical Orbits (HEO).
Beyond satellites, Non-terrestrial networks (NTN) refer to networks, or segments of networks, using an airborne or spaceborne vehicle for transmission. Airborne vehicles refer to High Altitude Platforms (HAPs) encompassing Unmanned Aircraft Systems (UAS) - including tethered UAS, Lighter than Air UAS and Heavier than Air UAS - all operating at altitude; typically between 8 and 50 km, quasi-stationary.
These Non-terrestrial networks feature in TSG RAN's TR38.811 "Study on NR to support non-terrestrial networks". They will:
Help foster the 5G service roll out in un-served or underserved areas to upgrade the performance of terrestrial networks
Reinforce service reliability by providing service continuity for user equipment or for moving platforms (e.g. passenger vehicles-aircraft, ships, high speed trains, buses)
Increase service availability everywhere; especially for critical communications, future railway/maritime/aeronautical communications
Enable 5G network scalability through the provision of efficient multicast/broadcast resources for data delivery towards the network edges or even directly to the user equipment
The objective of TR 38.811 is to study channel models, to define the deployment scenarios as well as the related system parameters and to identify and assess potential key impact areas on the NR. In a second phase, solutions for the identified key impacts on RAN protocols/architecture will be evaluated and defined.
A second study item, the "Study on using Satellite Access in 5G" is being addressed in Working Group SA1. It shall lead to the delivery of the corresponding Technical Report TR 22.822 as part of Release 16.
This study will identify use cases for the provision of services when considering the integration of 5G satellite-based access components in the 5G system. When addressing the integration of (a) satellite component(s), use cases will identify new potential requirements for 5G systems addressing:
The associated identification of existing / planned services and the corresponding modified or new requirements
The associated identification of new services and the corresponding requirements
The requirements on set-up / configuration / maintenance of the features of UE's when using satellite components related features as well for other components from the 5G system
Regulatory requirements when moving to (or from) satellite from (or to) terrestrial networks
About the co-authors
Nicolas CHUBERRE is the rapporteur of the FS_NR_nonterr_nw study item (TSG RAN), and Cyril MICHEL is rapporteur of the FS_5GSAT study item (WG SA1) - both from Thales Alenia Space.
Contact for this article: This email address is being protected from spambots. You need JavaScript enabled to view it., Marketing and Communications Officer, 3GPP