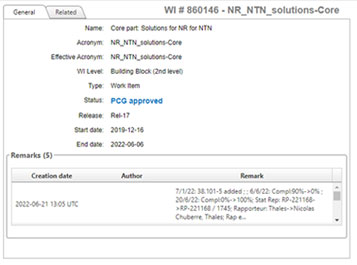 The Release 17 work item on NR based NTN solutions was completed at RAN#99 in Rotterdam (core and performance parts).
In Release 18, work is set to continue - towards the optimization of satellite access performance, with Rel-17 deployments built to be 'upgrade ready'.
For more...
The May 2023 isuue of the 3GPP Newsletter - Highlights Issue#6 will feature an article from 3GPP MRP GSOA, coauthored by Munira Jaffar, GSOA Standards Working Group Chair, EchoStar and Nicolas Chuberre, WI Rapporteur, Thales Alenia Space: 3GPP Standard for Satellite Networks (NTN), available from early May 2023.
---
Experts and leaders from 3GPP and GSOA gathered, during the TSG RAN Plenary in Rotterdam last week: