Standards for the IoT
Dec 02, 2016
December 2, 2016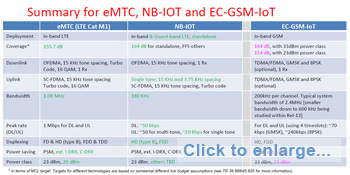 With news reports out this week, that the 3GPP standard is set to be in 35% of low power wide area (LPWA) network connections by 2020, our Working Group RAN3 Chairman - Philippe Reininger - has given a timely presentation at the IoT Business & Technologies Congress (November 30, in Singapore), outlining the latest progress made on specifications for the IoT market.

3GPP now has what he described as a 'portfolio of technologies' that 3GPP operators can use to address market needs. The presentation helps to explain and summarise the major features - eMTC, NB-IOT and EC-GSM-IoT - completed in 3GPP Release 13.
However, the main part of the presentation covered the enhancements that will be published in Release-14, which is due for completion by June 2017.
eMTC enhancements (aka. LTE Cat M1);
Support for positioning
Support for Multicast
Mobility for inter-frequency measurements
Higher data rates
Support for VoLTE
NB-IOT enhancements;
Agreement on NB-IOT positioning
Support for Multicast
Power consumption and latency reduction
Non- Anchor PRB enhancements
Mobility and service continuity enhancements
New Power Class(es)
See also, Enhanced DRX for NB-IOT and eMTC.
EC-GSM-IoT enhancements
Various radio interface enhancements
Further reading:
Contact for this article: This email address is being protected from spambots. You need JavaScript enabled to view it., Marketing and Communications Officer, 3GPP