IETF, 3GPP and 5G
Jun 08, 2017
June 7, 2017
The all new "Wednesday Speaker Club" took place today in West Palm Beach - during the 3GPP TSG Plenary meeting - with Alissa Cooper, the IETF Chair, sharing her views on how 3GPP and the IETF can cooperate on 5G.
Cooper told 3GPP delegates that important parts of the 5G work will span multiple SDOs and open source projects. She observed that IETF relationships with the IEEE, BBF, OPNFV and other bodies will be an area that will help broader collaboration, in addition to the potential for 3GPP and IETF to build on our well established cooperation on SIP/IMS and EAP-AKA work.
Georg Mayer, the 3GPP CT Chairman, introduced Ms Cooper as the first speaker in this new speaker club series. He set the scene for the presentation, telling delegates from the assembled 3GPP SA/CT and RAN (#76) plenaries that 3GPP - IETF cooperation has already made a major impact - particularly on protocol related topics.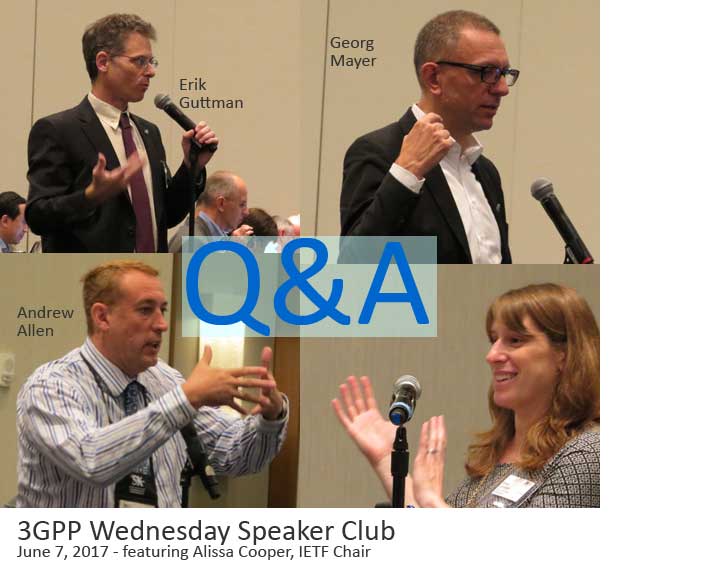 The follow-up Q&A focused on the potential and practicalities of improving collaboration, by increasing the exchanges in expert attendances in each other's meetings - with a focus on providing more introductory presentations of work going on in the other's groups. Doing this will help 3GPP to bring requirements into the IETF at an earlier stage – identifying areas of work early, even if later analysis may reduce the urgency. It may be better to start early and make such judgements, rather than start late!
Topics presented:
IETF technical areas
Examples of past and current work
Typical path to RFC standard
IETF Work Relevant to 5G
Achieving successful collaboration - How can we best work together?
Download Alissa Cooper's presentation to the Wednesday club…here
About our guest speaker:
Alissa Cooper is a Fellow at Cisco Systems. She is currently serving as IETF Chair. Previously, she served three years as an IETF Applications and Real-Time (ART) area director and three years on the Internet Architecture Board (IAB). She also served as the chair of the IANA Stewardship Coordination Group (ICG). At Cisco she was responsible for driving privacy and policy strategy within the company's portfolio of real-time collaboration products before being appointed as IETF Chair.
Prior to joining Cisco, Alissa served as the Chief Computer Scientist at the Center for Democracy and Technology, where she was a leading public interest advocate and technologist on issues related to privacy, net neutrality, and technical standards. Alissa holds a PhD from the Oxford Internet Institute and MS and BS degrees in computer science from Stanford University.
Follow Alissa Cooper on Twitter.