April 24, 2020
In our recent webinar on 5G radio standards, TSG RAN Chair - Balazs Bertenyi shared his thoughts about the status of Release 16 and Release 17 specifications.
Since the beginning of the year e-meetings have replaced 3GPP face-to-face group meetings. Despite the physical limitations of that way of working, he observed that the commitment of the experts is as strong as ever and that the technical work is proceeding well.
Balazs Bertenyi presented a slide that showed, despite the commitment of all concerned, this new remote way of working has put pressure on the time available to get the work done. RAN, and the other TSGs too, have allocated longer e-meetings schedules, but still the March Plenaries (TSG#87-e) agreed to an adjustment of the scheduled timeline for both releases.
The functional freeze date of Release 16 features is to be delayed by three months, bringing the completion of Stage 3 to the same Plenary meetings as the ASN.1 freeze in June. Although that completes Release 16 on time, the shift of feature work by three months does mean that the Release 17 timeline must take that into account – moving the Release 17 completion date to December 2021.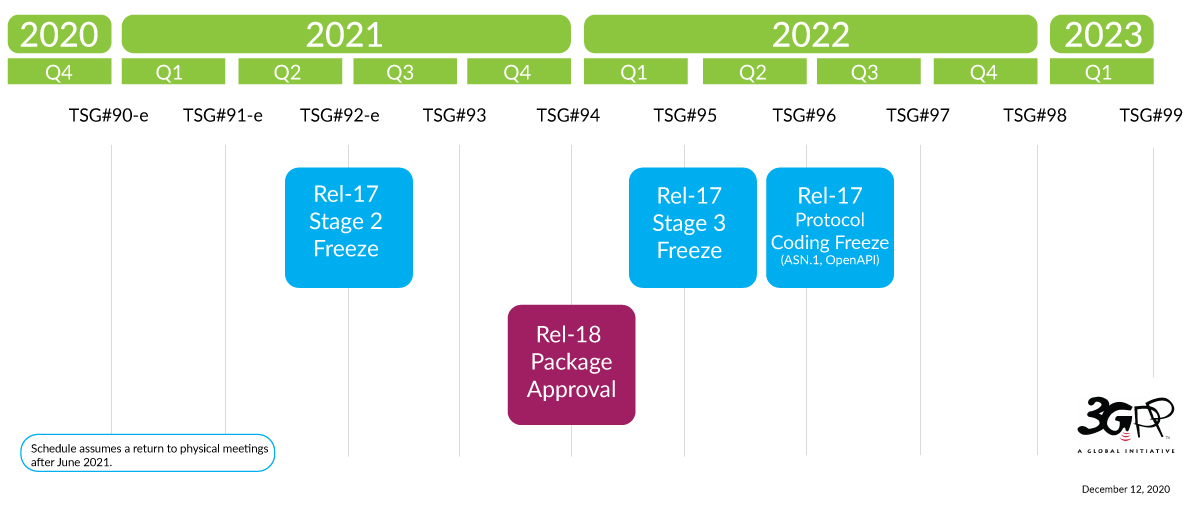 Looking at the content of the releases, in this RAN webinar, Balazs Bertenyi highlighted some of the features that will take radio access networks far beyond being all about mobile broadband. Although eMBB remains the foundation for a lot of 5G features and is being enhanced greatly in Release 17, he predicted that a series of exciting new features, including work on extended reality, are beginning to be seen as the most important use cases for 5G.
Other areas of growth in the technical work include; industrial IoT, automotive and the creation of 'nr-light' to cater for the growth of connected wearables and sensors – including those for health monitoring.
View the webinar at https://vimeo.com/407210628
Get a copy of Balazs' slides...here
Contact for this article: Kevin FLYNN, Marketing and Communications Officer, 3GPP