NG-RAN Architecture
Feb 19, 2021
February 19, 2021
In his recent contribution to "5G and Beyond", by Springer, 3GPP WG RAN3 Chair, Gino Masini, describes the NG-RAN architecture as being like "Janus bifrons" - as it supports both non-standalone (NSA) and standalone (SA) deployments - Looking at both the past and the future, like the ancient Roman god.
He also describes how the "monolithic" gNB can be split into its components, like layered wooden dolls, with gNB-CU, further split into gNB-CU-CP and gNB-CU-UP, and gNB-DU all nested one inside the other, resembling the Matryoshka.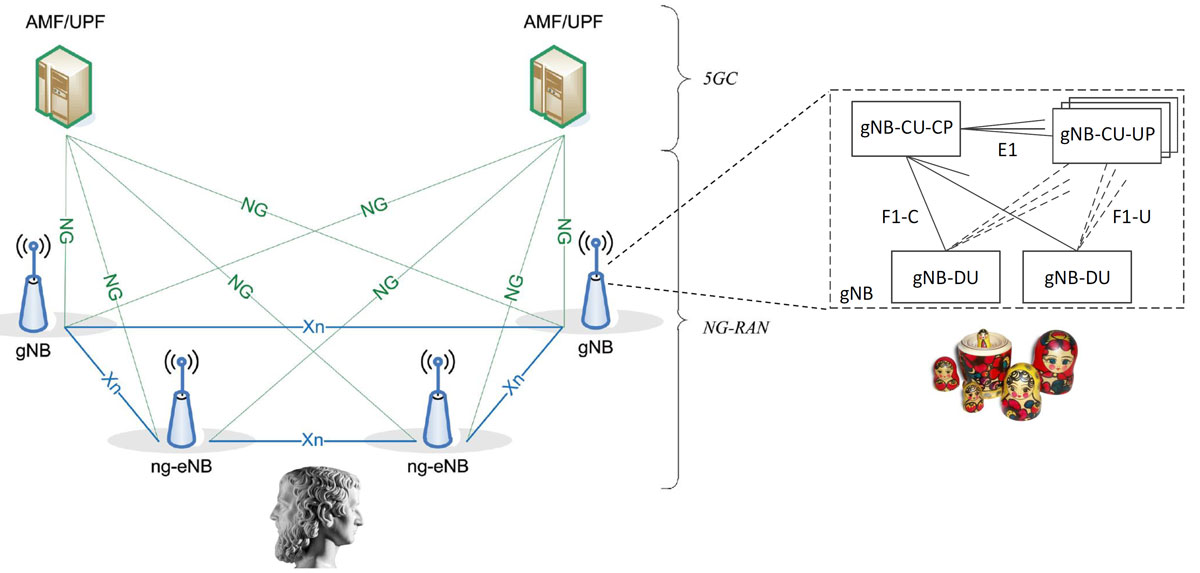 Gino Masini identifies how 3GPP aims to specify the best possible technical solution, given the requirements from all interested parties. The NG-RAN architecture results from such a mix of very different requirements since the days of Rel-15, building on the success of LTE by meeting the following headline requirements for 5G:
Support for enhanced mobile broadband services;
Support for Ultra-Reliable, Low-Latency Communications (URLLC);
A single architecture to accommodate centralized, distributed, and monolithic deployments – a cornerstone of 5G, supporting the deployment of certain functions in the cloud where it is beneficial;
In conjunction with the previous point, the possibility to fully separate Control Plane (CP) from User Plane (UP) of a centralized unit, for maximum deployment flexibility – another cornerstone of 5G, given that CP and UP scale differently. This enables the Radio Access Network (RAN) to follow the evolution (and "cloudification") that has happened in the core network in recent years;
Cooperation and resource sharing with existing LTE networks, to continue leveraging the operators' installed base – a novel kind of requirement for a new Radio Access Technology;
Flexibility to accommodate different migration strategies and "paths" from 4G to 5G, given the uncertain way in which the mobile telecommunications market is evolving;
Time pressure to release "world class specifications" while at the same time accelerating the release process as much as possible; this effectively resulted in three release "drops" ("early drop," "regular drop," and "late drop") for the same 3GPP Release.
This situation was already building up in Rel-14, when RAN3 started studying a new architecture for 5G. The resulting Technical Report [TR 38.801], which only hinted at the massive normative work lying ahead, already contained at least three very distinctive characteristics of NG-RAN: the possibility to operate in both 'standalone' and 'non-standalone' mode, a range of connectivity options to support various combinations of Dual Connectivity with LTE and different core networks, and the possibility to split the 5G base station into a central unit and one or more distributed units.
3GPP RAN3 has delivered the NG-RAN architecture that is a solid yet flexible foundation for 5G.