LTE MCPTT testing
Jun 27,2017
June 27, 2017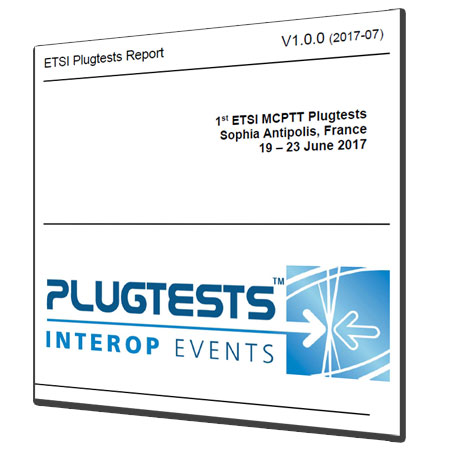 3GPP Market Representation Partner TCCA has worked closely with ETSI to produce their first Mission Critical Push to Talk (MCPTT) test event, held last week in Sophia Antipolis, focusing on test sessions for mission-critical LTE equipment.
140 participants from 19 companies carried out over 1000 tests based on 3GPP, ETSI and IETF standards – with 47 of the test cases specifically developed for Release 13 MCPTT.
During the event the TCCA announced that it will implement a vendor certification process for mission-critical products and applications, including MCPTT. "Our key goal is to have one global standard for MCPTT," said Phil Kidner, CEO of the TCCA.
At last week's event the equipment tested were in the following categories:
MCPTT Application Servers
MCPTT Clients
User Equipment (UE)
Chat mode Group Calls - Control Room & with LTE and TETRA radios
LTE network components: Evolved Packet Core (EPC), Evolved Node B (eNB) and Multimedia Broadcast Multicast Service (eMBMS)
IP Multimedia Subsystem (IMS)
"This first event demonstrates the commitment of the industry to ensuring that mission-critical LTE equipment adheres to open standards and will be thoroughly tested to ensure complete user confidence once commercial products are available," said Harald Ludwig, chair of the TCCA's Technical Forum.
Adrian Scrase, ETSI CTO, said during the event that "the value of the Plugtests is not only for the vendors in testing their implementations, but also in finding issues in the 3GPP specifications, which will be fed back to the 3GPP working groups."
Note to reader