February 9, 2017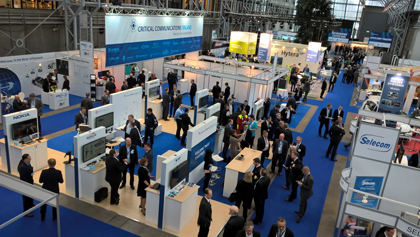 At the Critical Communications Europe (CCE) conference, held in Copenhagen this week, the need for future mission critical networks to offer coverage, throughput, capacity, resiliency and security - for vast amounts of data as well as voice communications - has been in focus.

A whole industry has been built out of the highly successful TETRA standard, delivering voice and early data services to professional users. Now with the need for advanced data networks there is a high degree of interest in how mission critical needs can be met by 3GPP systems.

Speaking at CCE today, Erik Guttman, the SA Chairman gave a summary of our standardization work. His message was that the industry should be motivated to [at least] follow the work of 3GPP and [at best] bring their expertise in to the working groups. He emphasised that the system evolves over time and over a series of Releases, not just one and that continual improvements are achievable.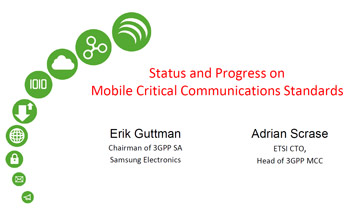 Also speaking at CCE, Adrian Scrase, the ETSI CTO, considered the future focus for 3GPP - reporting that the rail and maritime industry sectors have expressed interest in exploring the use of LTE to meet their needs, building on the mission critical functionality that has already been developed in previous releases.
Looking beyond Release 14, Adrian Scrase stressed that; "We have a clear view of what 5G will be and a detailed timeline showing the way to get there. The first phase of 5G specifications will be contained in Release 15 for those who wish to deploy in the 2018 timeframe. A more comprehensive second phase will be contained in Release 16 for those looking to deploy in the 2020 timeframe."
The 3GPP presentation delivered by Erik and Adrian is available for download...here.
Contact for this article: Kevin FLYNN, Marketing and Communications Officer, 3GPP
Note: The above is V2 of the article - with a correction to the quotes.