Lifetime achievement award to RAN3 role model
Lifetime achievement award to RAN3 role model
Sep 16, 2019
September 14, 2019
The 105th RAN3 meeting in Ljubljana was an important milestone for one of the long-time RAN3 delegates and the whole group, as it marked the last RAN3 meeting for Martin Israelsson, after 20 years of involvement in the group - in a multitude of roles and positions.
Martin is one of the pillars of 3GPP RAN3, ever present since December 1999, as well as being active in the 3GPP RAN Plenary. He has served as RAN3 Chairman from 2001 to 2003, and as RAN3 Vice-Chairman from 2009 to 2017. Martin's role has been crucial in fostering a cooperative climate through technically solid discussion and, when required, historically accurate explanations of what led to a certain technical decision.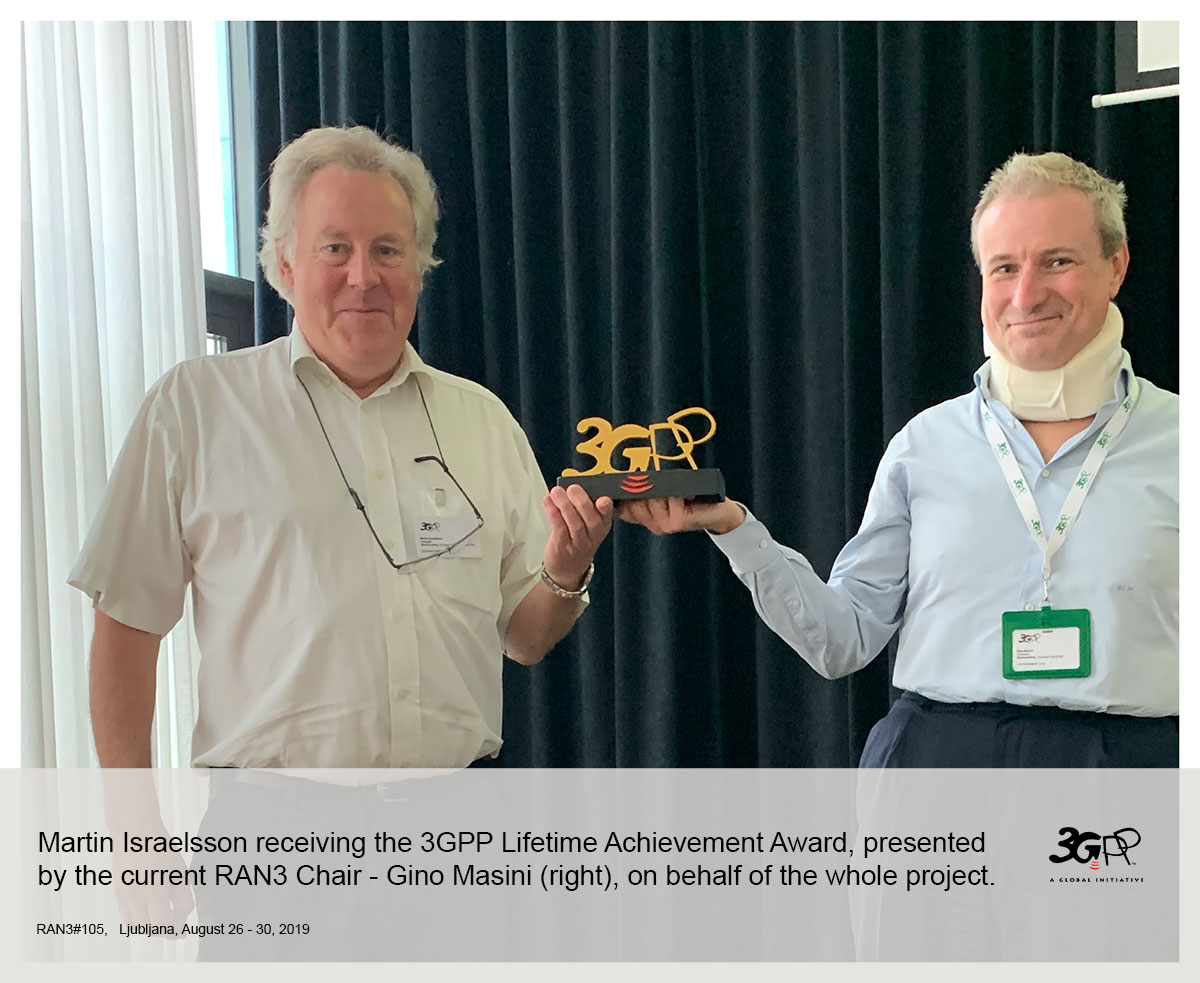 Over time he has served as Rapporteur of a number of key RAN3 specifications. He is always ready to step in and put in extra effort after a meeting, working closely with all Rapporteurs and 3GPP Mobile Competence Centre (MCC) colleagues to make sure specifications are in good shape and ASN.1 compiles during the Change Request implementation phase.
For his numerous achievements, only a small fraction of which is listed above, Martin was presented with a 3GPP Lifetime Achievement Award at RAN3#105, by the Working Group Chairman – Gino Masini.
After a long and fruitful service to the group, Martin Israelsson is concluding his RAN3 participation, as a lead Ericsson delegate, but we hope to see him make a guest appearance sometime in the near future.
Text & photo supplied by Sasha Sirotkin on behalf of the group.