Lifetime Achievement Award for RAN expert
Lifetime Achievement Award for RAN expert
Dec 11, 2019
December 11, 2019
TSG RAN#86, Sitges - Spain
At the end of the days work, in the RAN room yesterday, the 3GPP Lifetime Achievement Award was presented to Dr. Wan Lei, of Huawei Technologies, in recognition of fifteen years of highly productive work within and on behalf of the project.
Wan Lei has led the Huawei standardization efforts on 4G and 5G technologies since 2008, having begun work in RAN - as principle engineer in Ericsson Research, in 2001.
She is a renowned expert in simulation methodology & radio evaluation techniques, and 3D antenna and channel modeling. Wan Lei was also active in the 3GPP self-evaluation process for our LTE-Advanced technology submission as the ITU IMT-Advanced system. More recently, she has ensured a high degree of expert engagement in the evaluation work on 3GPP NR – by her team – to help prepare our submission for the ITU IMT-2020 system – 5G.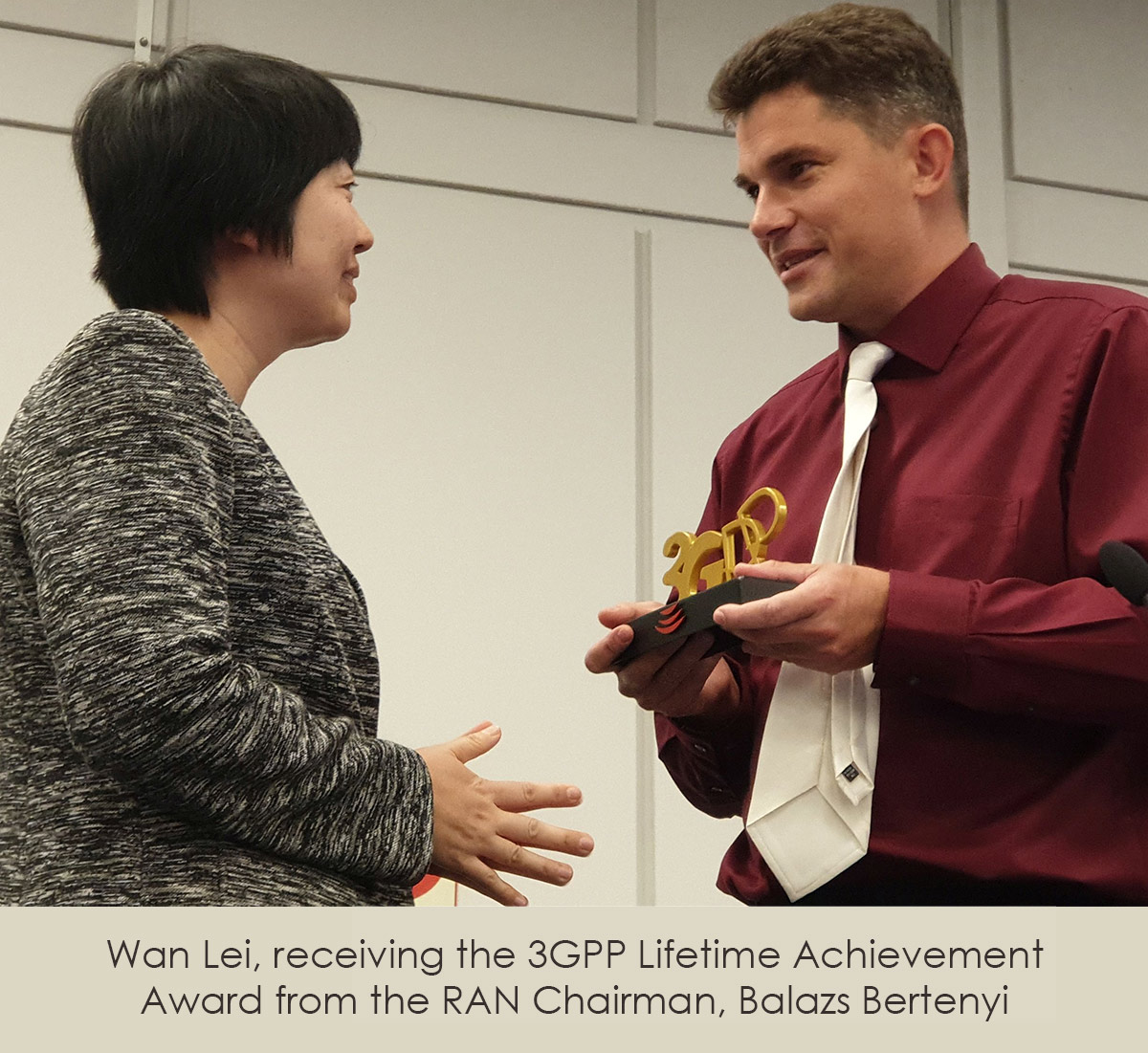 In her co-signing of the nomination of Dr. Wan for the award, Wang Zhiqin the head of the CCSA delegation (China's Organizational Partner in 3GPP) recognized her role as a strong advocate for 3GPP and a leader in consensus building among the regions, with her personal engagement being a vital help in ensuring the successful CCSA hosting of over thirty 3GPP TSG and Working Group meetings in China, between 2015 to 2019.
This was Wan Lei's last 3GPP meeting, as she moves to another role in Huawei at the start of 2020. In presenting her with the Lifetime Achievement Award, Balazs Bertenyi – TSG RAN Chair - warmly thanked her for her commitment to the success of 3GPP.
Accepting the honour, Wan Lei expressed her satisfaction that "We have together produced a single common global standard that we can be proud of." She told the RAN room "I feel that I have been a student of 3GPP - I have learnt so much here and this is a special place. The open approach that we have here allows things to move forward - based on a generous spirit of cooperation."
Contact for this article: This email address is being protected from spambots. You need JavaScript enabled to view it., Marketing and Communications Officer, 3GPP

Thanks to Moray Rumney for taking the photos used here.