A Tribute to Donald E Zelmer
A Tribute to Donald E Zelmer
Jan 07, 2022
January 7, 2022
Don Zelmer, a friend and main mover in 3GPP has passed away on January 6, following a short illness.
Don served in 3GPP TSG RAN as Vice-Chair for a number of years and participated in 3GPP since its creation in 1998. His attendance at well over 600 technical meetings and as a lead delegate to the Project Coordination Group of 3GPP has been characterised by his ability to ask the tough questions, with a civility that was both charming and sincere - always accompanied by his familiar 'Don Zelmer, AT&T' introduction.
In addition to his leadership and mentorship in 3GPP, Don served the ATIS Wireless Technologies and Systems Committee (WTSC), which is one of the primary North American drivers into 3GPP. He was Chair of a WTSC subcommittee, and has also served multiple terms in the role of WTSC Chair and Vice Chair.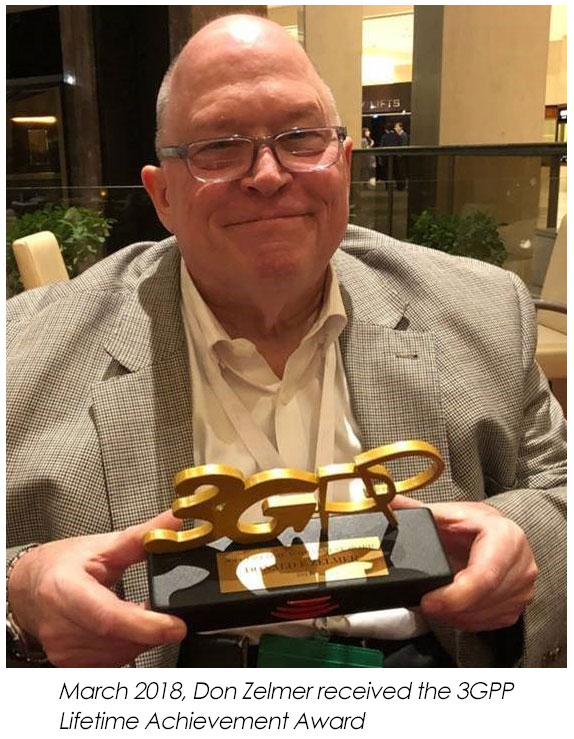 With his background in the design, manufacturing, and implementation of low- and high-power radio communications equipment, and nearly five decades of experience in radio frequency efforts, Don Zelmer brought an impressive depth of knowledge to his work as 3GPP rapporteur over the years, on a variety of topics, including radio aspects of Public Warning Systems (PWS), Radio improvements for the support of IMS Realtime Services, the study of FDD HSPA Evolution and on the Introduction of UMTS-850 (Band V) in 3GPP TS25.307.
Don's perseverance and commitment to the work of 3GPP - and especially to the work of 3GPP RAN - is legendary. In March 2018 he was presented with the 3GPP Lifetime Achievement Award, in recognition of a fine volume of work and a career spent ensuring that everyone in his path received respect, equality and fairness before all else.
We send our condolences and best wishes to the family at this sad time. Don Zelmer will be greatly missed.