The first Issue of the 3GPP News-letter - 3GPP HIGHLIGHTS - has gone to print and is available for review on the 3GPP site.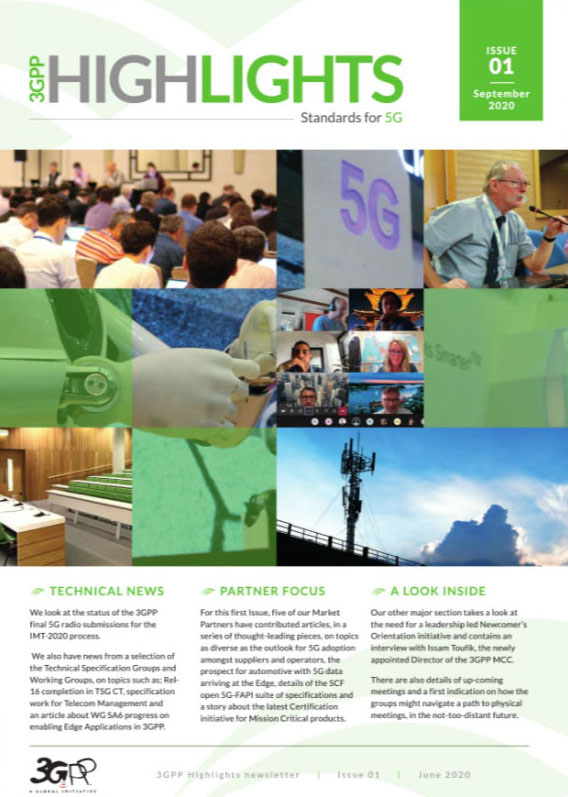 The News-letter is in three distinct Sections. We start with the TECHNICAL HIGHLIGHTS - with four articles that lean more towards the detailed work. Next is the PARTNER FOCUS section where five 3GPP Market Partners have contributed interesting and challenging articles about their work. Finally, we take a LOOK INSIDE. This section is intended to open the box on how the project works.
'3GPP Highlights'?
3GPP Highlights is a news-letter, published on a bi-annual basis (Cover dates: July* and February).
If you need more information about registering for future issues, or un-registering, or to find out how to contribute: Contact me at highlights@3gpp.org
3GPP Highlights is always supplied free-of-charge. You'd be mad to pay for it.
Copyright: The content provided in this publication remains the copyright of the author(s).
Copyright and Reprint Permission: We request that you credit the Author(s) as they appear on the article, or '3GPP Highlights, Issue n' (where 'n' is the issue number).
The Editorial group
Editor: 3GPP Marcom Officer, Kevin Flynn
Thanks to the following for copy, proof reading and constructive criticism:
Editorial Group:
TSG Chairs: Balazs Bertenyi, Lionel Morand, Georg Mayer
MCC Director: Issam Toufik
ETSI COM Director: Nadja Rachow
PCG Secretary: Adrian Scrase
Editorial Oversight: PCG Chair and Vice-Chairs
*Due to COVID-19 restrictions, the 2020 summer edition is published in September.