December 14, 2019
By Balazs Bertenyi, 3GPP RAN Chair, Nokia
3GPP RAN#86 held 9-12 December made substantial decisions regarding the further technology evolution of 5G NR radio. Nowhere is it more apparent, than in 3GPP RAN, that the 5G ecosystem is building out to be substantially more versatile than LTE.
5G NR radio evolution is carried out with a drive from a multitude of key stakeholders from the traditional commercial cellular industry, a wide variety of industry verticals and the non-terrestrial access ecosystem. The Release-17 work program is a testament that 3GPP is committed to serving all of these key stakeholders.
A major achievement of the RAN plenary meeting was the approval of the content for Release-17 – both in terms of the list of features included and the detailed functionality within each feature. This decision addresses the work in RAN1, RAN2, and RAN3: physical layer, radio protocol and radio architecture enhancements. Further decisions will be made at RAN#88, in June next year, on the RAN4 work for Release-17.
For Release-17 the physical layer work in RAN1 will start at the beginning of next year, whilst radio protocol and architecture work in RAN2 and RAN3, respectively, will start in the 2nd quarter.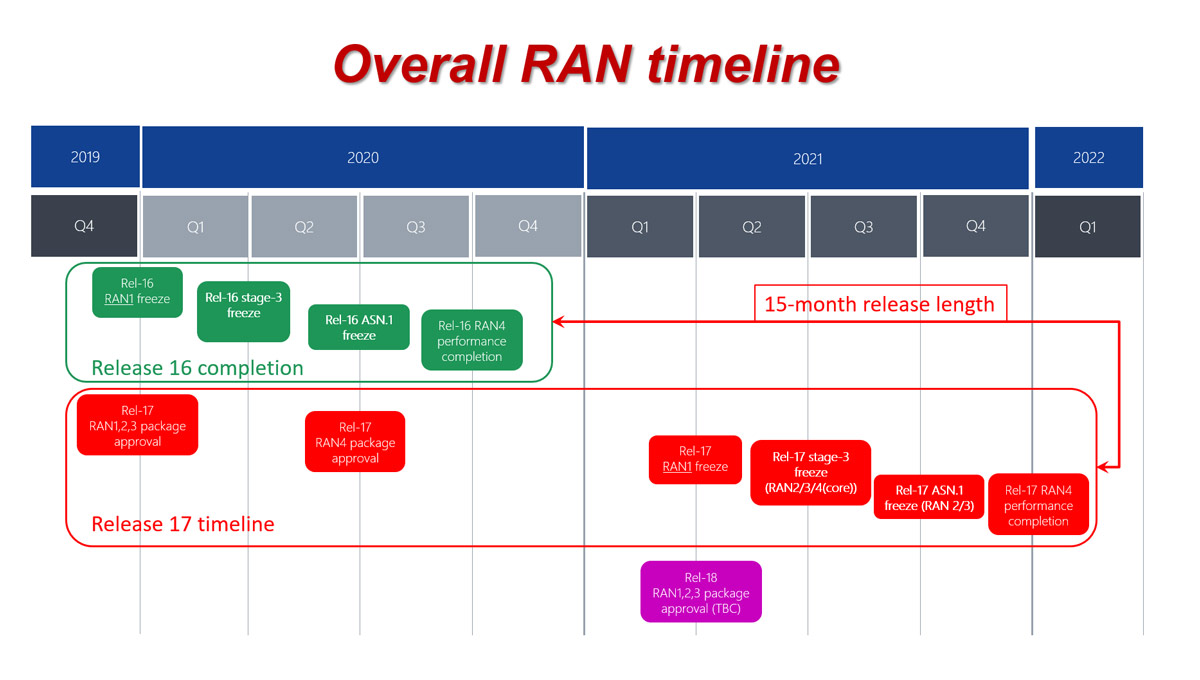 Physical layer enhancements (RAN1)
From January, RAN1 will start working on several features that continue to be important for overall efficiency and performance of 5G NR: MIMO, Spectrum Sharing enhancements, UE Power Saving and Coverage Enhancements. RAN1 will also undertake the necessary study and specification work to enhance the physical layer to support frequency bands beyond 52.6GHz, all the way up until 71 GHz. The summary figure below shows the Release-17 content for RAN1 with the planned RAN1 time allocations (TU) in each quarter.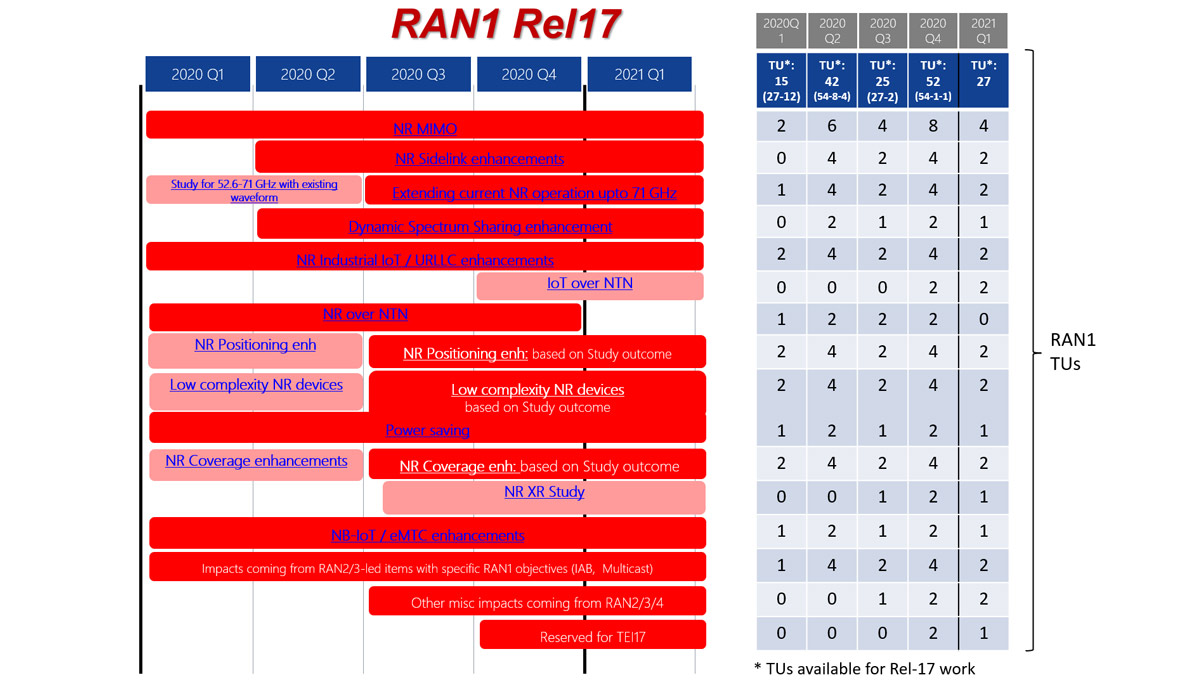 In addition, several features have been approved to address different needs of vertical industries: Sidelink enhancements to address automotive industry and critical communication needs, Positioning enhancements to address stringent accuracy and latency requirements for indoor industrial cases. Further functionalities will be added to the rich set of capabilities to better support low latency and industrial IoT requirements, and also to terrestrial Low Power Wide Area systems (NB-IoT).
Specification support will be added to support lower capable NR devices, realizing the needs of certain commercial and industry segments for such features.
The combination to support lower capable NR devices, and enhancements done for NR coverage constitute key elements to enhance support for the Low Mobility Large Cell (LMLC) scenarios – an important scenario for the global success of 5G NR, in particular in developing countries.
3GPP RAN will now start normative work on 5G NR enhancements to support non-terrestrial access (NTN): satellites and High-Altitude Platforms (HAPs). Initial studies will be performed for IoT as well, paving the way to introduce both NB-IoT and eMTC support for satellites.
Radio protocol enhancements (RAN2)
In RAN2, the work starts in the second quarter of 2020. The necessary protocol enhancements for the newly added physical layer driven features will be added. The summary figure below shows the Release-17 content for RAN2 with the planned RAN2 time allocations (TU) in each quarter – note that these allocations may be revised at RAN#87 in March.
From April, RAN2 will also start working on features that continue to be important for overall efficiency and performance of 5G NR: Multiradio DC/CA enhancements, IAB enhancements, enhancements for small data transfer, UE Power Saving enhancements, SON/MDT enhancements.
As a new RAN2-led feature 3GPP will add support for Multicast transmissions, focusing on single-cell multicast functionality with clear evolution path towards multicell. It is important to note that multicast will entirely re-use the unicast NR physical layer to enhance the opportunity for an accelerated commercial uptake of multicast.
Multi-SIM devices have been extremely popular for LTE in many regions, these have been based on proprietary solutions. In order to have a more efficient and predictable Multi-SIM operation in NR RAN2 will work on specification enhancements, especially in the area of paging coordination.
Radio architecture enhancements (RAN3)
In RAN3, Release 17 will also start in the 2nd quarter of 2020. Architecture support will be added to all necessary RAN1- and RAN2-led features. The summary figure below shows the Release-17 content for RAN3 with the planned RAN3 time allocations (TU) in each quarter.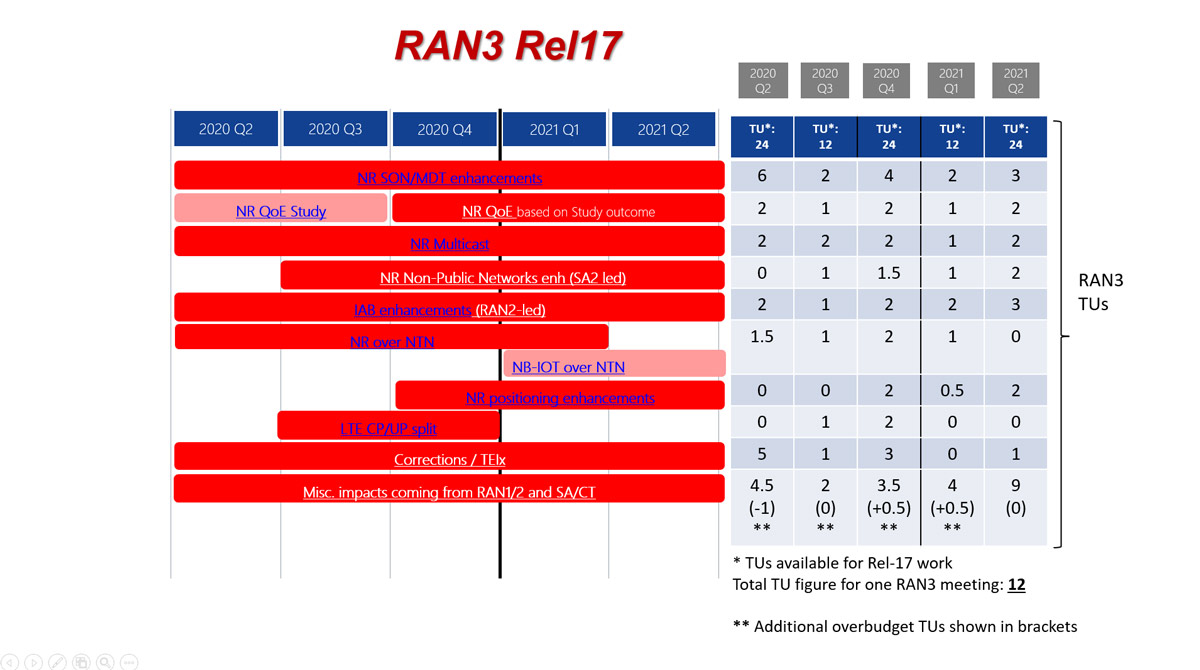 RAN3 will also address the QoE needs of 5G NR, initially starting with a study to understand how different the QoE function would need to be compared to what was specified for LTE.
The radio architecture of 5G NR is substantially more versatile than LTE through the split of gNB: Control- and Userplane split, as well as the split of Centralized Unit and Distributed Unit. RAN3 will now add support for CP-UP split to LTE to so that LTE networks can also take advantage of some of the advanced radio architecture functions of 5G.
Summary
Release 17 is perhaps the most versatile release in 3GPP history in terms of content. Still, the scope of each feature was carefully crafted so that the planned timelines can be met despite the large number of new features. As RAN Chairman I have the utmost confidence that the Working Groups will be able to deliver the specifications for all the planned functionality within the designated timeline.
Download the slideset - Release 17 package for RAN - which contains the above slides (with links to details of the work)
See a video recorded in Sitges, at the RAN#86 meeting - featuring Balazs Bertenyi, TSG RAN Chair...here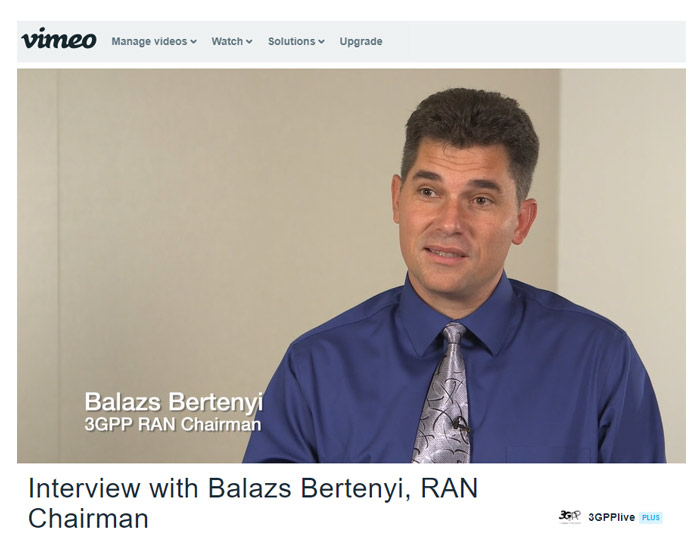 Contact for this article: Kevin FLYNN, Marketing and Communications Officer, 3GPP