The most recent 3GPP Release 11 specifications include the support of stereoscopic 3D video, thus providing a major step towards 3D content for mobile users.
The 3GPP Codec working group - SA4 - completed their study on Mobile stereoscopic 3D video earlier this year, assessing use cases and probable solutions.
Now, the working group has completed specification work, selecting the video codecs:
H.264/AVC frame compatible formats enabling re-use of existing 3D video deployments, and
MVC, the 3D extension of H.264/AVC for the support of full resolution per view formats.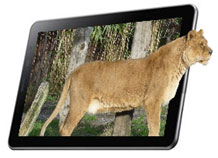 3GPP video services like HTTP and RTP-based streaming (3GP-DASH, PSS), broadcasting/multicasting (MBMS), download and progressive download (3GPP file format) and messaging (MMS) all support these video codecs and dedicated signaling.
The updated specifications bringing stereoscopic 3D video into 3GPP are:
| | | | |
| --- | --- | --- | --- |
| | TS 26.140 | Multimedia Messaging Service (MMS); Media formats and codecs | |
| | TS 26.234 | Transparent end-to-end Packet-switched Streaming Service (PSS); Protocols and codecs | |
| | TS 26.244 | Transparent end-to-end packet switched streaming service (PSS); 3GPP file format (3GP) | |
| | TS 26.247 | Transparent end-to-end Packet-switched Streaming Service (PSS); Progressive Download and Dynamic Adaptive Streaming over HTTP (3GP-DASH) | |
| | TS 26.346 | Multimedia Broadcast/Multicast Service (MBMS); Protocols and codecs | |
More information on stereoscopic 3D video is available in the following Technical Report:
Contacts:
Gilles Teniou
– VIDEO SWG chairman
Kari Järvinen
– TSG SA4 WG chairman
DASH: Dynamic Adaptive Streaming over HTTP
PSS: Packet-switched Streaming Service