April 1, 2014, Analysis from radioresourcemag.com/

New data, from James Bennett of SNS Research, suggests that by 2020 the installed base of private public-safety LTE eNodeB units will approach 155,000, serving an estimated 4 million professional users worldwide.

The success of LTE, combined with the limited potential – for data - of existing private mobile radio systems, has led public-safety organizations to consider LTE as the de-facto future standard for mobile broadband. The article also points out that large LTE deployments can save up to 40 percent in the total cost of ownership, by opting for a public-private partnership, using a mix of private and commercial spectrum.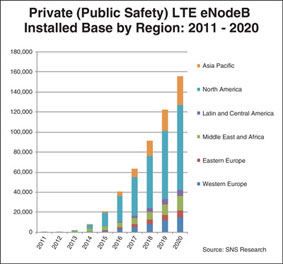 However, James Bennett sounds a cautious note; "…the transition to LTE will be one of the most complex technical changes the public-safety communications industry will witness and will present challenges, particularly in the context of global standardization."
Noting that LTE was conceived for commercial networks, he identifies the efforts of 3GPP on improving the standard for public-safety operations, initially focusing on group communications and device-to-device communications. He suggests that mobile network operators will continue to improve their networks with features for public-safety needs, given this opportunity to play a major role.
See the full article at: http://www.radioresourcemag.com
See Also: