The 3rd Generation Partnership Project (3GPP) unites [Seven] telecommunications standard development organizations (ARIB, ATIS, CCSA, ETSI, TSDSI, TTA, TTC), known as "Organizational Partners" and provides their members with a stable environment to produce the Reports and Specifications that define 3GPP technologies.
The project covers cellular telecommunications technologies, including radio access, core network and service capabilities, which provide a complete system description for mobile telecommunications.
The 3GPP specifications also provide hooks for non-radio access to the core network,and for interworking with non-3GPP networks.
3GPP specifications and studies are contribution-driven, by member companies, in Working Groups and at the Technical Specification Group level.
The three Technical Specification Groups (TSG) in 3GPP are;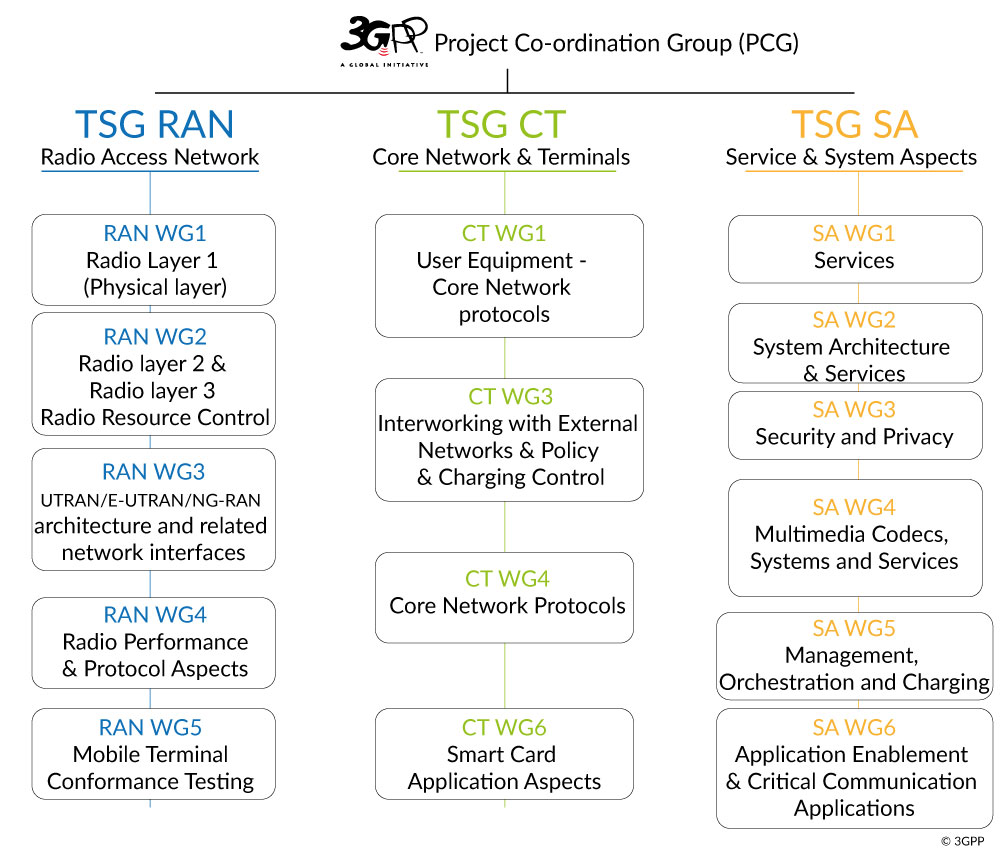 The Working Groups, within the TSGs, meet regularly and come together for their quarterly TSG Plenary meeting, where their work is presented for information, discussion and approval.
The last meeting of the week of TSG Plenary meetings (see example below) is TSG SA, which also has responsibility for the overall coordination of the technical work and for the monitoring of its progress.
The 3GPP technologies from these groups are constantly evolving through Generations of commercial cellular / mobile systems (see table below). With LTE, LTE-Advanced, LTE Advanced Pro and 5G work - 3GPP has become the focal point for the vast majority of mobile systems beyond 3G.
Although these Generations have become an adequate descriptor for the type of network under discussion, real progress on 3GPP standards is measured by the milestones achieved in particular Releases. New features are 'functionality frozen' and are ready for implementation when a Release is completed. 3GPP works on a number of Releases in parallel, starting future work well in advance of the completion of the current Release. Although this adds some complexity to the work of the groups, such a way of working ensures that progress is continuous & stable.
Backward Compatibility
The major focus for all 3GPP Releases is to make the system backwards and forwards compatible where possible, to ensure that the operation of user equipment is uninterrupted. A good example of this principle was the priority placed on backward compatibility between LTE and LTE-Advanced, so that an LTE-A terminal can work in an LTE cell and an LTE terminal works in the LTE-A cell.
For 5G, many operators are starting with dual connectivity between LTE and 5G NR equipment - using the 'Non-Standalone' work completed early in Release 15. In the process of completing the early drop of 5G NR care has been taken to build 'forward compatibility' in to Non-Standalone NR equipment, to ensure that it will be fit for use on Standalone 5G NR systems.
Generations of Mobile Systems
Generation
Major Systems Milestones
1G
Analogue technology, from the 1980s onwards.

Various technologies were deployed, Nationally or Regionally, including:
NMT (Nordic Mobile Telephone), AMPS (Advanced Mobile Phone System), TACS (Total Access Communications System), A-Netz to E-Netz, Radiocom 2000, RTMI (Radio Telefono Mobile Integrato), JTACS (Japan Total Access Communications System) and TZ-80n (Source:wikipedia)
2G
First digital systems, deployed in the 1990s introducing voice, SMS and data services.
The Primary 2G technologies are: GSM/GPRS & EDGE, CDMAOne, PDC, iDEN, IS-136 or D-AMPS.


3G

The 3G system from 3GPP is based on evolved Global System for Mobile communication (GSM) core networks and the radio access technologies that they support.

This has allowed for the maintenance and development of GSM, with the evolution of General Packet Radio Service (GPRS) and Enhanced Data rates for GSM Evolution (EDGE), as well as further developments with the Universal Mobile Telecommunications System (UMTS) and High Speed Packet data Access (HSPA).

3G brought a global vision to the evolution of mobile networks, with the creation of the ITU's family of IMT-2000 systems which included EDGE, CDMA2000 1X/EVDO and UMTS-HSPA+ radio access technologies.

3G/4G

LTE and LTE-Advanced have crossed the "generational boundary" offering the next generation(s) of capabilities. With their capacity for high speed data, significant spectral efficiencies and adoption of advanced radio techniques, their emergence has been the basis for all new mobile systems from Release 8 onwards.

It should be noted that LTE-Advanced (From Release 10) is 3GPP's ITU-R IMT-Advanced radio interface. LTE-Advanced is the first true 4G technology to be specified by 3GPP.

LTE-Advanced Pro is the name that helps the industry describe what has been achieved with the completion of Release 13. LTE Pro is set to be used by other sectors, beyond telecoms, including Critical Communications (blue light services & other Mission Critical systems), the machine-to-machine or Internet of Things (IoT) sector, Transport (Rail, ITS, etc), Education and many other areas. LTE-Advanced Pro is 3GPP's stepping stone to 5G systems.

5G

5G brings another major technology step, with the creation of a 'New Radio' (NR).

Unlike with 4G, where 3GPP hesitated to join the generational march onwards beyond 3G, we have embraced the alignment of the industry on NR and on LTE-Advanced Pro to provide 5G – from 3GPP Release 15 onwards.
Radio Access Milestones
3GPP Technical Specification Group RAN, like other TSGs, ensures that systems based on 3GPP specifications are capable of rapid development and deployment with the provision of global roaming of equipment.
Each progressive 3GPP radio access technology aims to reduce complexity and avoid fragmentation of technologies on offer.
Core Network Evolution
GSM networks used circuit-switch telephony initially, with packet-switching added with GPRS. In the UMTS architecture, this dual-domain concept was kept on the core network side. Some network elements were evolved, but the concept remained very similar.
When considering the evolution of the 3G system towards LTE, the 3GPP community decided to use IP (Internet Protocol) as the key protocol to transport all services. It was therefore agreed that the Evolved Packet Core (EPC) would not have a circuit-switched domain but that the EPC should be an evolution of the packet-switched architecture used in GPRS/UMTS.
This decision had consequences on the architecture itself but also on the way that the services were provided. Traditional use of circuits to carry voice and short messages needed to be replaced by IP-based solutions in the long term... Read more on the EPC at http://www.3gpp.org/The-Evolved-Packet-Core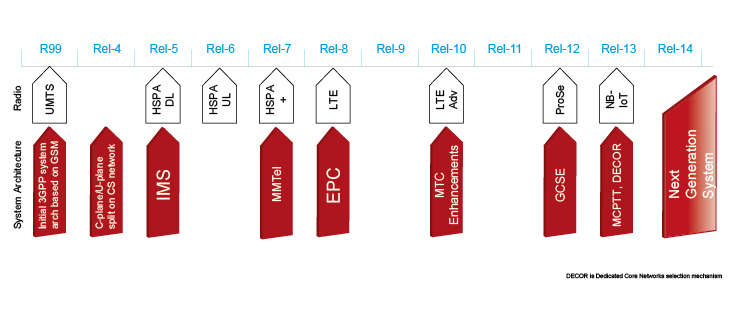 For details of the contents of each Release, see the appropriate 'Release Description' document (or see direct link at bottom of this page).
Details of all 3GPP Work Items are in the 3GPP Work Plan, which provides details of the cooperation between all of the 3GPP groups on "Features", defined as 'new or substantially enhanced functionality which represents added value to the existing 3GPP system'.
3GPP Scope
The original scope of 3GPP (1998) was to produce Technical Specifications and Technical Reports for a 3G Mobile System based on evolved GSM core networks and the radio access technologies that they support (i.e., Universal Terrestrial Radio Access (UTRA) both Frequency Division Duplex (FDD) and Time Division Duplex (TDD) modes).
The scope was subsequently amended to include the maintenance and development of the Global System for Mobile communication (GSM) Technical Specifications and Technical Reports including evolved radio access technologies (e.g. General Packet Radio Service (GPRS) and Enhanced Data rates for GSM Evolution (EDGE)).
3GPP was created in December 1998 by the signing of the "The 3rd Generation Partnership Project Agreement". The latest 3GPP Scope and Objectives document has evolved from this original Agreement.
The discussions that led to the signing of the 3GPP Agreement were recorded in a series of slides called the "Partnership Project Description" that describes the basic principles and ideas on which the project is based. The Partnership Project Description has not been maintained since its first creation but the principles of operation of the project still remain valid.