May 2019
(Minor edits made to text, for web publication)
It is a privilege to speak to you today. Until mid-March, I served as chairman of 3GPP TSG SA, the elected official responsible for coordination within the 3GPP project and with external organizations. I had the privilege to take leading roles in the development of Internet standards in the 90s and in work on telecommunications standards over the past 20 years. I will outline the realization of telecommunication standards in the 5G Program, which will be the submission provided for IMT-2020. This is an extensive subject which I can only treat briefly.
Organizations participate in 3GPP through their membership in one of the partner standards developing organizations (SDOs). Activity is 'contribution driven' meaning that any member may submit any proposal. Members have a strong incentive to find common purpose. I will return at the end of this speech to discuss how 3GPP embraces new stakeholders as part of the IMT-2020 realization, which we call 5G.
20 years ago, telecommunications standardization occurred largely within these organizations separately, resulting in distinct systems. The GSM system, now referred to as 2G, was quite successful. It provided a set of teleservices - voice, messages and some data transmission capability. Third generation mobile telecommunication standards were developed jointly, as a partnership of these SDOs, continuing on the basis of the work done [on GSM] by ETSI. The result of their work became a submission to the ITU IMT-2000 family of standards. The vision of 3G was to bring the Internet to mobile users. Eventually, 3G did fulfil this objective, but not with standardized teleservices.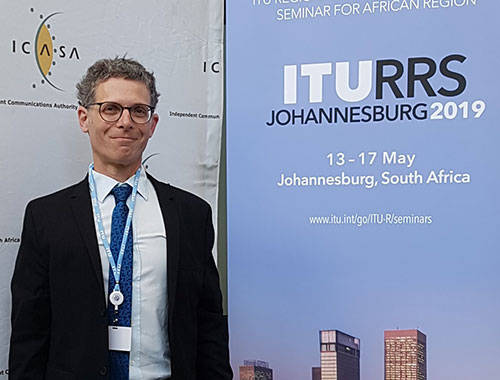 The organization's structures, practices and governance has continued through the 4G project, resulting in the IMT-Advanced submission. 4G offered significantly improvements over 3G, and from the start aimed for mobile broadband, that is Internet connectivity backed up with significant and innovative capabilities to serve a range of potential business domains with a single generalized system.
4G has been extremely successful, though its vision, to support broadband communication for an expanding range of business and public sectors approached a limit. The fundamental design of LTE and the enhanced packet system has inherent constraints that impede broad flexibility for example to reduce latency or operate in certain frequency domains.
The present 5G project, targeting IMT-2020 submission, bases all aspects of the system on a principle of flexible specialization. Several sectors, new to telecommunications standardization, have undertaken work in 3GPP late in the 4G and now in the 5G program. They begin to see standards that advance the possibilities in their domains. I name a few examples. Mission Critical communication, referred to in the ITU as PPDR, has been standardized in the past, but only of the lower layers and with very limited interoperability across countries and regions. 3GPP has successfully produced a global standard for PPDR on the basis of the continually advancing 3GPP system. Other examples of standardization programs of note include "vehicle to everything" communications - both for safety and to deliver communication services to passengers. Another is industrial internet of things - that supports cyberphysical control and automation. A broader set of capabilities for cellular Internet of Things, including specialized radio access technology and system features, enable diverse functionality such as low latency communication, power efficiency, device monitoring, group communication and much more. 3GPP has developed and continues to improve media broadcasting capabilities, to deliver audio-visual content over the mobile broadband system. Currently, we target delivery of new forms of media including enhanced video services, virtual and extended reality.
Let's step back from these examples for a moment. Each service domain presents unique challenges for delivering services well and efficiently. The key performance indicators, the required levels of service, differ enormously. 5G fulfils this demand through its ability at each level to specialize the use of resources to deliver some combination of enhanced mobile broadband, ultra-low latency communication and massive connectivity to devices collectively considered the internet of things. Thorough assessment by key stakeholders determine the proper capabilities to support each sector, and also to ensure that different services can be supported, even with extraordinarily diverse requirements, at the same time by the 5G system.
Each sector benefits from the breadth of the others, in that the fundamental communications technologies evolve. For this reason, there is very broad agreement that all stakeholders benefit as we expand the scope of 3GPP and bring solutions that can be applied in different environments, whether indoors or at sea, from dense urban environments to sparsely populated regions. 3GPP has benefited through the growth of our community and welcomes additional participants and stakeholders.
Unfortunately the time alloted to my presentation does not allow more than a cursory description of what 3GPP has achieved already in the 5G program and regarding continuing work set to complete in time for submission to IMT-2020. Beyond meeting or exceeding the technical requirements of IMT-2020, 5G aspires, as I indicated previously, to deliver services previously absent in a broad range of domains, both public - for example advances in personal communiciations, entertainment, PPDR and vehicular safety and other vehicular services. In the private sector 5G offers industrial automation, unmanned aerial vehicle communication, machine type communication and much more.
All these goals must be met in a system that is also efficient (in terms of power consumption and a flexible, generally reusable infrastructure). 5G offers the ability to achieve the needed service levels in the diverse physical environments in which they are to be delivered. 3GPP's 5G standard achieves these varied objectives through advances in radio, network and application software components of the system. I will discuss only two of these as my alotted time grows short.

The trend for delivery of mobile broadband has been to deliver services with decreasing cell sizes. While this is beneficial for delivering high data rates with great energy efficiency, it does not suit all applications and needs. A significant advance in the terrestrial network comes with increasing coverage enhancements to allow for, among other services, broadcast over wide areas. Another extremely exciting development is 5G non-terrestrial communication. For the first time, we see standardization of integration of terrestrial and satellite networks. This will prove invaluable for providing services to remote areas, indeed offering the prospect of ubiquitous telecommunication. This cooperation between the satellite and terrestrial communication sectors has been fruitful and offers great promise.
Another area of promise is support for markets requiring minimal service levels, allowing delivery of mobile services in environments with constrained resources, for example, constrained availability of power or terminal equipment with size, storage or computation limitations. This mode of service still targets specific service levels through resource management, e.g. for mission critical communication.
I conclude this brief overview of 3GPP's 5G program with an appeal for participation by all interested parties. Membership in 3GPP partner SDOs is easy to arrange, both for public and private organizations. Once a member of one of these SDOs, participation in 3GPP is easy - our conferences occur worldwide, without registration fees or any restriction whatsoever for attendance, contribution or initiative. 3GPP always considers the proposals of its members, and to the extent possible, finds approaches that are mutually beneficial to all involved. Please consider how to participate, articulate your requirements and aspirations. 3GPP does its best to bring excellent results for all its stakeholders, and as you have heard, the 5G program is bursting with promise.
Notes