Cape Town, November 12, 2014
This year has seen the start of LTE moving from niche to mass market in Africa, with the most significant growth coming in mobile data connections – which is not surprising given that only 20% of the population currently have broadband (whether fixed or mobile).

Another growth factor is that affordable smartphones are becoming available – we saw $50 dollar models here this week – for users in areas outside of the initial urban hotspots, as connectivity is rolled out.

Speaking in the 3GPP led session of the LTE Africa stream of the conference Mortimer Hope, of the GSMA, highlighted the importance of the mobile industry to the Continent as a motor for growth and job creation. He called for a planned approach towards competition and for the availability of spectrum in a harmonised way across Africa - Both being vital for the future of affordable broadband access.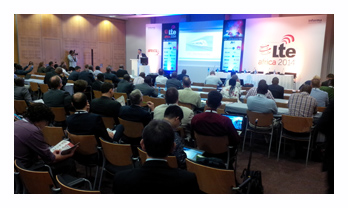 The 3GPP session also featured two presentations by 3GPP officials. Balazs Bertenyi, the 3GPP SA Chairman, focused on the priorities for system standards development - providing for 'Stability, Capacity and Growth' and Philippe Reininger, the RAN3 Chairman, covered the major radio advances for HSPA and LTE – as Release 12 reaches completion.
About AfricaCom and LTE Africa
Our participation in this event is a part of our endorsement as a strategic partner in the Informa LTE World Series, and specifically as a part of our endorsement of the LTE Africa stream in the AfricaCom trade show and conference.

http://africa.comworldseries.com

Our aim has been to ensure that delegates, from all areas of the industry, get information about the standards progress and some background information about how the features that they are selling or buying, or simply using, have come about through the 3GPP standards process.
Download:
Contact for this article: Kevin FLYNN, Marketing and Communications Officer, 3GPP