June 25, 2013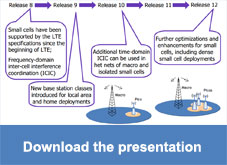 3GPP RAN1 Chairman, Matthew Baker, has given a presentation entitled "From Macro to Small Cells: Enhancements for Small Cells in 3GPP" to the Small Cells World Summit, in London. He told the audience that "The 3GPP LTE and HSPA systems have supported small cells alongside macro cells for some time, but enhancements for small cells have now been specifically prioritised as a key component of Release 12 of the standard."
His presentation looked at the various ways that operators are considering to increase capacity to meet the data explosion; with more spectrum, interworking with other access technologies, or through the use of new antenna technologies. All have a role to play, but Matthew Baker identified as 'vital' the role of small cells; "Small cells using 3GPP radio access technologies will enhance capacity and per-user throughput, as well as reducing costs and uniquely offering tight cooperation with the macro coverage layer. Further optimization is coming, especially aimed at dense deployments with large numbers of small cells in hot-zones."

Aspects of interference management in such dense deployments is one current study area for 3GPP, particularly as small cells will increasingly be situated according to patterns of traffic demand rather than by traditional cell planning for coverage. In addition, RAN groups are looking at the specific characteristics of the radio propagation in small cells, to further improve spectral efficiency. "These enhancements will reinforce the position of the 3GPP radio access technologies as the technologies of choice for small cells", said Matthew Baker.


About 3GPP RAN1
RAN WG1 (Radio layer 1) is responsible for the specification of the physical layer of the radio Interface for UE, UTRAN, Evolved UTRAN, and beyond; covering both FDD and TDD modes of the radio interface. See:http://www.3gpp.org/RAN1-Radio-layer-1, for the full terms of reference and details of future meetings.

See also:
| | |
| --- | --- |
| TR 36.932 | Study on Scenarios and Requirements of LTE Small Cell Enhancements for E-UTRA and E-UTRAN |

Leading to two further studies:
| | | | |
| --- | --- | --- | --- |
| 580041 | Study on Small Cell Enhancements for E-UTRA and E-UTRAN – Physical-layer aspects | Rel-12 | R1,R2,R4 |
| 580044 | Study on Small Cell Enhancements for E-UTRA and E-UTRAN – Higher-layer aspects | Rel-12 | R2,R3 |
About Small Cells World Summit
Avren's Small Cells World Summit 2013, in partnership with the Small Cell Forum, is the largest small cells event in the telecoms industry. http://www.smallcellsworldsummit.com/