Application Enablement Standards in 3GPP
Application Enablement Standards in 3GPP
Feb 10, 2022
By Suresh Chitturi, 3GPP Working Group SA6 Chair - Article first published in HIGHLIGHTS Issue 03, Oct. 2021.
With the most recent 5G standards (Release 15 to Release 17), and the advent of the industry 4.0 revolution, there has been a greater emphasis within 3GPP to develop features that go beyond typical end-consumer expectations (e.g. higher speeds, better coverage), and towards capabilities that can enhance the communications for vertical industries such as public safety, automotive, drones, factories of the future, IoT… and in a manner that such capabilities are natively available within the 5G system.
While radio and core network standards are essential to the robust functioning of 3GPP networks, application enablement standards have been receiving significant attention in the recent years. With the help of these standards, it is now possible for 3rd party application developers and vertical specific application providers to seamlessly integrate and leverage the underlying capabilities of the 3GPP system to its full potential.
Within the 3GPP Technical Specification Group Service and System Aspects (SA), TSG SA WG6 (SA6) is the application enablement and critical communication applications group for vertical markets. The main objective of SA6 is to provide application layer architecture specifications for 3GPP verticals, including critical communications applications, service frameworks and vertical application enablers.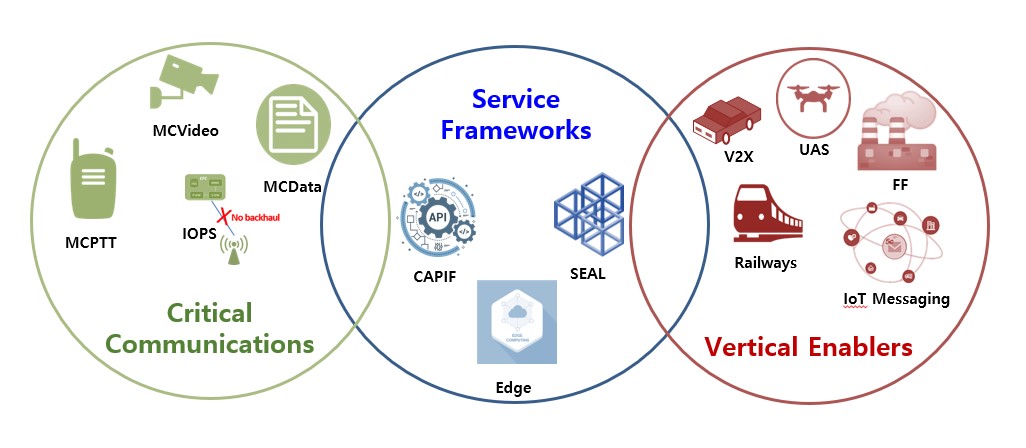 Established in December 2014, and since Release 13, SA6 has been the home to global standards for Mission Critical (MCX) Applications such as MCPTT, MCVideo and MCData. While the initial MCX standards were defined to address the needs of public safety industry, we are seeing strong interest in adoption of these standards in other critical communications sectors such as Railways, Utilities, Maritime and Transportation.

During Release 15, the SA6 Terms of Reference (ToR) were expanded to look beyond critical communications, accelerating the development of application enablement initiatives such as Service Frameworks and Vertical Enablers.
Service Frameworks
Common API Framework (CAPIF) - a unified Northbound API framework across network/application functions to facilitate a harmonized approach for API development within 3GPP. This ensures that there is a single entry point for vertical applications (a.k.a. API invokers) towards the common API aspects (also called CAPIF APIs) such as onboarding, discovery, authentication and authorization (Refer to 3GPP TS 23.222).
Service Enabler Architecture Layer (SEAL) - specifies application plane and signalling plane entities for application-enabling services (e.g. group management, configuration management, location management, identity/key management, network resource management); that can be reused across vertical applications (Refer to 3GPP TS 23.434).
Edge Application Enablement (EDGEAPP) – provides an edge enabling layer and application architecture for enabling Edge Applications on the Edge Data Network, including the exposure of northbound APIs towards Edge Applications, integration with the 3GPP Network, and to facilitate communication between the Application Clients running on the UE and the Edge Application Servers deployed on the Edge Data Network with capabilities such as service provisioning, rich application discovery, and service continuity (Refer to 3GPP TS 23.558).
Vertical Enablers
V2XAPP - Application layer support for V2X services: enables the efficient use and deployment of V2X applications over 3GPP systems including Platooning, Advanced Remote Driving (ToD), and High Definition Maps. The focus of V2XAPP is to provide key capabilities such as message distribution, service continuity, application resource management, and dynamic group management (Refer to 3GPP TS 23.286)
UASAPP - Application layer support for Uncrewed Aerial System: specifies application layer capabilities towards UAS applications on the UAV/UAV Controller and the USS/UTM systems to leverage 3GPP transport capabilities, including support for communication between UAVs within a geographical area, QoS provisioning for C2 communication, monitoring of location deviation, and reporting of UAV events (Refer to 3GPP TS 23.255)
5GMARCH - Application architecture for MSGin5G Service: offers 5G messaging communication capabilities for massive IoT, including point-to-point, application-to-point, group and broadcast messaging, across multiple UE types (Refer to 3GPP TS 23.554).
FFAPP - Application layer support for Factories of the Future: identifies key issues and solutions related to support for TSN and TSC communications including network/device monitoring, QoS coordination, group communication, clock synchronization, and integration with existing operation technologies (Refer to 3GPP TR 23.745)
Looking forward…
As we foray into Release 18 (5G-Advanced) and beyond, the applications hosted on 3GPP networks will be increasingly diverse and infinite, and the role of SA6 will be to identify the right set of application enablement initiatives to maximize 5G adoption across existing and new verticals.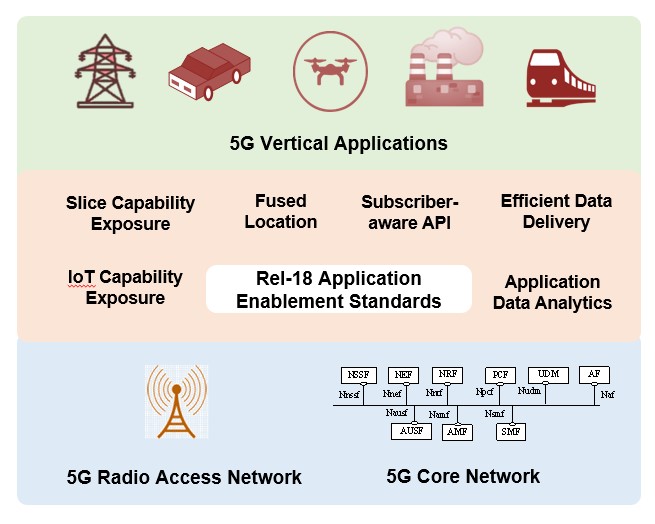 To this end, we are seeing both enhancements to current focus areas in Rel-17 and expansion to new areas such as network slice capability exposure, subscriber-aware northbound API, application capability exposure for IoT platforms, fused location capability framework, efficient data delivery for applications, enablement of application data analytics enablement, and support for new verticals such as smart grid. If you want to shape the future of application enablement standards, join us @ 3GPP SA6!
More about TSG SA WG6 at: https://www.3gpp.org/specifications-groups