March 14, 2017
By Joachim W. Walewski, Siemens AG, rapporteur of the FS_CAV study item.
A new SA1 study item on requirements for automation in verticals focuses on critical communications as an enabler for wireless control loops. Once complete, the group will have identified the normative 3GPP work needed to deliver 5G for automation in a variety of industries.
The Study item description is in 3GPP SA Plenary document SP-170169.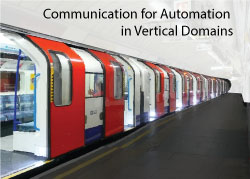 Wireless communication in diverse areas, such as manufacturing and energy distribution, is enjoying a steady growth. However, this deployment is also characterised with emerging issues, mostly related to coexistence problems of technologies that rely on the industrial, scientific and medical (ISM) radio bands. 3GPP systems, and certainly 5G, are set to offer a better level of service.
SA1 will formulate service requirements, particularly leveraging on two features of evolving 5G technology - controlled channel access and the use of alternative frequency bands – to address the needs of the critical communication sector and overcome the coexistence issues.
3GPP is evolving to understand and meet the needs of the new sectors. The SA1 study on critical communication, Technical Report (TR) 22.862 –"Enablers for Critical Communications" - had a first look at a handful of vertical use cases. From there, a set of identified performance requirements were included in Technical Specification (TS) 22.261 – "Service requirements for the 5G system".
The new study (FS_CAV) will expand the scope of TR 22.862 and TS 22.261 along several dimensions, to:
Survey industry standards pertaining to critical communication.
Identify potential requirements on 5G networks by new sectors.
Address new vertical use cases (e.g., train control in mass transit).
Survey industry security standards and their implication for critical communication over 5G networks.
Organisations with a focus on vertical application domains are encouraged to contribute to this study.
Contact for this article: Kevin FLYNN, Marketing and Communications Officer, or go directly to the SA1 pages - to get involved.