July 7, 2022
During the summer, we will launch a new look 3GPP website. We are currently transferring content and testing functionality, with a view to a mid-August launch date.
The new site is designed to allow newcomers to gain easier access to the information they need. New pages and sections are provided to get new experts, and the more casual visitor, to the information that they need.
While making that step, we have also tried to not fix what isn't broken, so we have kept all of the data rich 'dynareport' content and the quick links to much used resources under '3GPP Groups', 'Specifications and Technologies' and a new 'Delegate's corner'.
A look around the new site:
Home
A big change here. We will show a scrolling top banner – with the latest stories and news items from the project. We will display content from the 3GPP newsletter 'Highlights' to increase the readership of those articles, but we will also adapt our news gathering to feature any 3GPP related news releases from the growing number of Market partners and also from the 3GPP Organizational Partners.
About
Although the look is different, we have kept most of the content from the old site. Details of the Partners and the MCC are alongside Membership information and links to some important areas, including; legal, liaisons, FAQs…
3GPP Groups
There may be an additional click needed to get to documents, meetings, etc for the group you are following, but we hope you like the new – more professional layout for each group.
Specifications and Technologies
We have worked on a new tool here, one where you can browse a series of articles about technologies being specified. The shrewdly named 'Browse our Tech' will build over time, providing an introduction to features and items under the groups' work plans.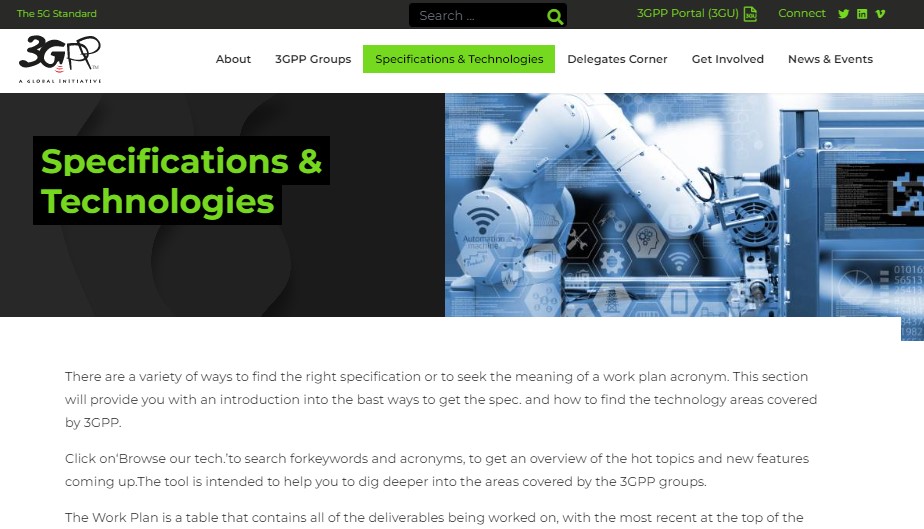 Pages on the 'Specifications by Series', the 'Work plan' and 'Releases' are also in this section.
Delegates Corner
This is intended to be the tool box, or sand pit, for delegate experts. If you know what you are looking for, you could start here…
Get Involved
This section is intended to get the new visitor to 3GPP to where they want to go. Whether membership, or to get closer to a technical group… this section will have quick links and some content for new comers.
Finally, the News and events section will allow access to stories and articles that have been on the home page and a growing amount of content from the partners.
We are working like bees to transfer and create content for the new site. The summer period will give us time to get it right, before it is published.
Please contact me if you would like to help shape pages or sections of the site. The design is fixed, be we will make improvements as we become aware of what is needed.
Contact for this article: Kevin FLYNN, Marketing and Communications Officer, 3GPP