November 28, 2019
Alongside the technical discussions at the next Plenary meeting, in Sitges from December 9 to 13, a working lunch has been arranged for Wednesday, where a guest speaker has been invited to deliver a talk on IT security certification – focusing on 5G Campus Networks.

Dirk Kretzschmar, the Managing Director of TÜViT, will cover testing and certifying the security of networks, in the context of the increasing complexity of systems and from his personal experience in Germany – where factory sites have been subjected to cyber attacks.

The Speakers Club presentation will take place in the TSG RAN room at lunch on Wednesday. As the talk is taking place within the 3GPP meeting:- We cannot allow non-members or un-registered experts to attend - Apologies for that.
What is TSG#86?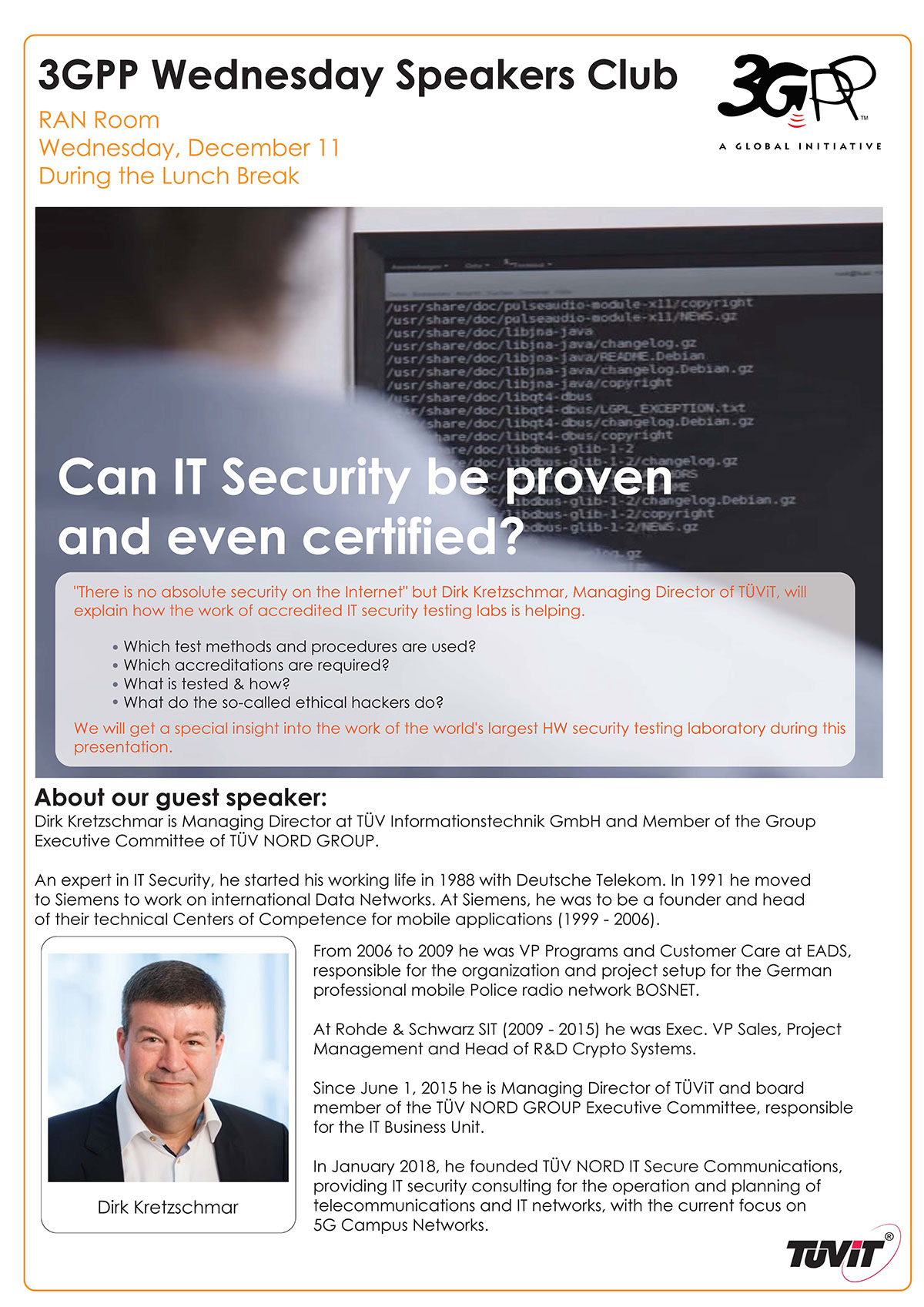 From December 9-13, 2019 the 3GPP Technical Specification Groups (TSGs) will gather in the Spanish coastal resort of Sitges, to continue progress on 5G specifications - at their 86th plenary meetings. The groups will continue the effort to ensure that Release 16 specifications remain on schedule for their June 2020 freeze date – the time when no additional functionality can be squeezed in to any particular feature.
In addition to keeping the current work on schedule, an important part of the discussions in Sitges will surround the priorities for Release 17, with the RAN and SA groups bringing their discussions on the Release Package to a conclusion. More news will follow on that important process.
Please be aware that this talk is taking place in a closed technical meeting - Open to 3GPP Members only.
Contact for this article: Kevin FLYNN, Marketing and Communications Officer, 3GPP