Lifetime achievement award to RAN3 role model
September 14, 2019
The 105th RAN3 meeting in Ljubljana was an important milestone for one of the long-time RAN3 delegates and the whole group, as it marked the last RAN3 meeting for Martin Israelsson, after 20 years of involvement in the group - in a multitude of roles and positions.
Martin is one of the pillars of 3GPP RAN3, ever present since December 1999, as well as being active in the 3GPP RAN Plenary. He has served as RAN3 Chairman from 2001 to 2003, and as RAN3 Vice-Chairman from 2009 to 2017. Martin's role has been crucial in fostering a cooperative climate through technically solid discussion and, when required, historically accurate explanations of what led to a certain technical decision.
5G-ACIA, Non-Public Networks for Industrial Scenarios
September 3, 2019
5G-ACIA have published a short paper to describe the industrial (IIoT) deployment scenarios for 3GPP-defined 5G private networks, looking at how organisations can apply 5G technologies on their own premises, either as an independent 5G network or in conjunction with a public network.
ATIS Webinar – 5G Standards development
August 6, 2019
A new ATIS webinar features three distinguished experts, each contributing their perspective on the Global collaboration effort to produce 3GPP specifications for 5G.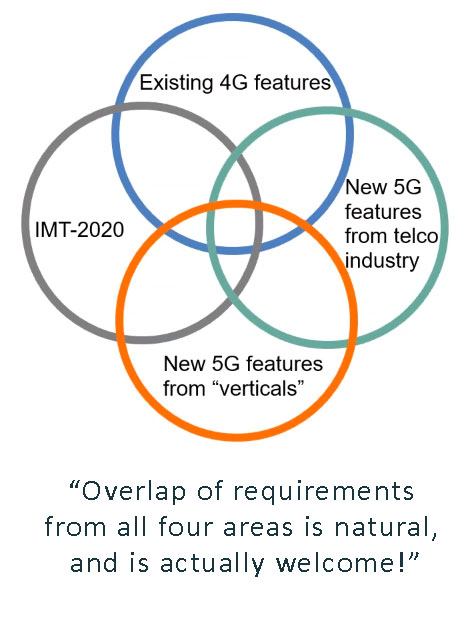 Farrokh Khatibi, presented on Services and Requirements in Release 15. He identified four areas driving 5G: The ITU IMT-2020 project, Evolution of 4G systems, New 5G features and the Support for new industries [new to 3GPP].
To meet the need, eMBB was the initial focus for Rel-15, followed up by three other areas:
mIoT – including high density deployments
Critical Communications - including industrial automation and work on the 'tactile internet'
Network Operation (NEO) – brings in the requirements of new sectors - verticals
Farrokh Khatibi looked also at the new requirements met by Release 16 – which further addresses the needs of the verticals coming in to the 3GPP eco-system.